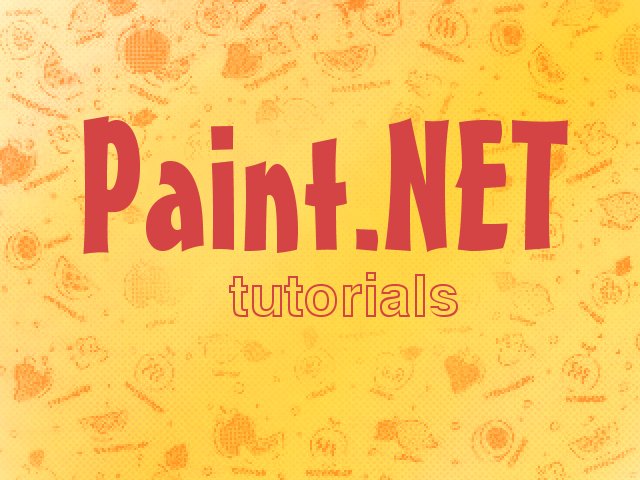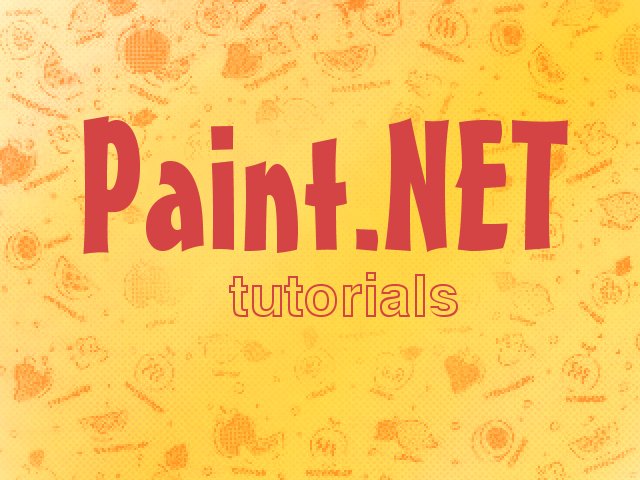 Tutorials, resources, and links for Paint.NET to be updated here. Suggestions are appreciated!!
Hospital Index
Art Programs Index
Paint.NET Description:
An open-source freeware image editing software available in several languages. (

If anyone would like to write a review to be featured here, let me know.)
Read a Snapfiles Review
Read a CNET Review
Read an About.com Review

Paint.NET Official Website

-Official website, free Paint.NET download, roadmap/change log, screenshots, and
User Forum
with extensive
Tutorials Section
.
Clubs and Other Sites
Paint.NET Fan Forums
-A small but active community with more tutorials.
Ash's Paint.NET Page
Individual Tutorials

Paint.NET: Interactive Guide
by
Eulogy-Dignity
-This is an interactivne tutorial for Paint.NET. It is a comprehensive visual guide to the interface of this program and is intended to give you an understanding of the
basics
of how this program works.
The information contained herein is intended to complement Paint.NET's Help file, and should not be used as a replacement for it.
I wasn't entirely happy with the first version and have since totally redone the tutorial. More screenshots (about 160, I believe) and more descriptions all around. It's much, much more complete than the original!
An Emoticon Animation Tutorial
Part 1
and
Part 2
by
Jtcgh
-I noticed that most of the emoticon tutorials here on dA refer entirely to specific software which may be too expensive (e.g. photoshop), or not powerful enough (i.e. MS Paint) for many members of the community.
I know that if the only option presented to me had been to shell out several hundred pounds in order to make emotes, I never would have started.
Good thing is, that isn't the only way.
Paint.NET is a powerful, but most importantly free piece of software which can be used to create emoticons, and this tutorial guides you on how to go about doing that.
I want this to allow people who have wanted to try their hand at emoticons, but haven't been able to due to the cost of Photoshop.
Paint.net tut- outline
by
skymaggot666
-I've noticed there are not a lot of Paint.NET tutorials out there. To show my love of the great free program, I decided to make one of my own.
paint.net skin tut
by
skymaggot666
-Create a new layer. Call it "Skin colors"...
JAZ's paint.NET Tut
Part 1
,
Part 2
and
Part 3
by
Jaz-DE-Leau
-This tutorial was supposed to be one big file, but I decided to break it up. I hope this helps people.
Paint.NET Basic Tutorial
by
carapau
-It's a big file so be patient.
Part 1: Lines
,
Part 2: Colors
and
Part 3: Eyes
by
XxLisLisxX
-This is how to make lines in paint.NET and make them look pretty good, how to do general coloring and shading, and eyes.
Paint.Net tutorial
by
Psychic-girl
-Here is a tutorial I made for the Paint.Net program. It's a neat alternative to Photoshop if people can't afford it. Really! Hope you all like it and find it helpful.
Paint.NET Tutorial
by
ViciousVeggie
-First, choose a color other than black and sketch out your picture...
Paint.NET Lineart Tutorial
by
DemonedAway
-A tutorial on how to make a neat lineart in Paint.NET using a mouse.
PaintNet Line Art Tutorial
by
RisingEchelon
-This is meant for those of us who can't afford photoshop (or can but choose not to spend the money on it) and have downloaded Paint.NET. Comments and suggestions are welcome.
Simple Lineart Tutorial
by
RandomRoachie
-I wanted to make a tutorial. So here.
Paint.NET Lineart Tutorial
by
acsoundwave
-Digital inking on Paint.NET: Six Simple Steps. The trick with this process is that your pencils must be good to begin with. I picked this sketch because the lines were strong enough for the tutorial.
Paint.NET Tutorial
by
Nazella
-Just a little tutorial. WARNING: May overload both your computer and brain.
It's a paint.net tutorial
by
Ohthehumanityplz
-Sorry for how extremely long it is, but people have been asking what program I use on my digital pictures. So here you have it.
Paint.net Tutorial
by
eggo21
-I am like the only person i know off of DA that can do digital art, so i get the same question constantly. "can you teach me how to draw on paint"? I finally decided to make a tutorial for the people that wanted to learn how to use Paint.net. I know its not extreemely to the point, but part of a learning process is figuring some stuff out yourself. Download for a better view of the writing.
Paint.NET: Cell Shading
by
Otomodachi
-This is a Paint [Dot] Net Tutorial. Paint.Net is an image editing program similar to both Photoshop and Paint Tool SAI, but not as advanced. It's free to download and is not a trial.
Paint.Net Tutorial- Coloring
by
TOXiC-ToOtHpAsTe
-Sorry if you don't like my style of coloring, you don't have to look at it. This is just how I color, and I know I still have quite a lot to learn. Thank you very much for looking at my paint.net tutorial!
Paint.NET CellShading Tutorial
by
DemonedAway
-A Cell-Shading tutorial for Paint.NET.
Shading Tutorial for Paint.NET
by
Basilisk-432
-A shading tutorial I decided to do for Paint.NET.
Paint.Net coloring TUTORIAL
by
GaaHina007RPC
-My friend has problems with coloring on paint.net so i decided to do a tutorial for her and the rest of you.
Coloring and Shading Tutorial
by
Chaosangel256
-So this my tutorial for coloring and shading in Paint.NET. Hope it helps.
Paint.NET: Blending Tutorial
by
SilverWind-v1clizz
-A tutorial for Paint.NET. This is how I get that nice blended finish of my pics. It take more time but It makes them look nice.
Quick Kirby Paint.Net Tutorial
by
DemandinCompensation
-I didn't erase the color in this from when I went over the lines. I did for my final version, but just so you know, you can have transparency in your eraser. You just need to change the transparency bar just as you would for a color.
Coloring Tutorial
by
areica
-This was my first time making a tutorial thing like this,
Paint.NET Coloring Tutorial
by
Kryptid
-Someone wanted me to show how to color in Paint.NET. This is a very basic tutorial on how to do that.
French paint.net tutorial
by
ordina13
-hum...tutorial pour le logiciel inconnu que j'utilise. la façon dont j'ai fait les cheveux est pourrie.
Part 1
Part 2
by
Neolioness
-A friend was wondering how I made my BG in my Sailor Blaze picture, so I put this together for her. This basically covers some of my favorite ways to create a non-boring BG in Paint.NET. If there is anything that you don't understand that you want me to make clear, comment and I'll try to help you. A basic knowledge of the Paint.NET interface is recommended.
Hair
Tutorial for Hair
Part 1
,
Part 2
, and
Part 3
by
peach-a-boo
-okay ALL OF THE coloring is done by setting the LINART LAYER to "multiply". Then i added another layer under the lineart layer and it is a normal layer, and i named it COLOR HAIR.
Eyes
PDN: Animeish Eye Tutorial
by
ViciousVeggie
-Start with a sketch. Eyes can be a variety of shapes, so play around and see what you like best.
Paint.NET eye tutorial
by
AngelTheHedgehog
-The key is to blur the hell out of everything.
Paint.NET eye tutorial 2
by
AngelTheHedgehog
-I decided to make another paint.NET eye tutorial since the other one is old. Fullview or Download.
Paint.Net Tutorial: Anime Eyes
by
Ghost-the-echidna
-For all my fellow Paint.Net users!
Tutorial - Eyes
by
Ashori-sama
-This tutorial is for Paint.NET. It is a free program, and you can do an excellent job on it, believe it or not.
Effects
Paint.NET "screentones" Tut
by
ViciousVeggie
-Quick tut for something like screentones.
Rasegen Tutorial
by
narutokunobessed
-Yay my first tutorial. Figures after some one saw my wallpaper.
Speech Bubbles Tutorial
by
DemonedAway
-WARNING! IT'S HUGE! How to Make Speech Bubbles in Paint.NET tutorial.
Angel Tutorial
by
zelayda
-Here's a simple tutorial on how to make someone look like an angel. C= You just need the free program called paint.net (you can look it up on Google). It's really simple and it's so much easier - as I remarked in the tutorial itself - if you have a tablet.
Coriolis Effect - Paint.NET
by
Ghost-Dreamer
-I named this Coriolis effect after the first creation I made with it and because it reminded me of that effect, it is not the name of an actual effect in Paint.NET.
3D Text Tutorial
by
jake2k
-Start out with a blank canvas (I add a pink bg to mine but you dont have to). It's better to make it bigger than what you want it to be so you can size it down.
New & Improved 3D Text/Logo Tutorial!
by
jake2k
-Seeing how my last 3D text tut was a big hit but unfortunately a huge headache to many people I set out to find an easier way to accomplish this effect. Now many days... weeks... ok months later I have come up with what I hope is an easier more "noob" friendly tutorial, not to mention the improvement in the visual department.
Paint.NET: 3D Text
by
Eulogy-Dignity
-jake2k's awesome tutorial on 3D text was deemed 'non-newbie friendly' by a few of the newer users on the PdN forums... This is the 'skin-and-bones' version of his tutorial. Easy enough, right?
Paint.Net: Transparency How-To
by
LatiasGirl93
-A little while ago on Pokemon Fan Universe, some random newbie was asking how to make transparent backgrounds. I whipped this together, trying to help. It is my first tutorial. Ever. Enjoy!
Userbar Tut in Paint.NET
by
RBDesign
-Took a few hours to do, hope it was worth it.
Glowing tutorial for Paint.Net
by
DrUmMeR-GuY
-Since I've already given the link to download Paint.Net to two of my friends...I decided to make a tutorial for creating a glowing thing/creature.
Energy Ball Tutorial
by
Kryptid
-First, make sure that you start with a transparent background.
Artificial Fire - Paint.NET
by
Ghost-Dreamer
-Here's the promised tutorial on making artificial fire, the tutorial was written for Paint.NET as that is the software that I use but I'm fairly certain this is transportable to Photoshop and possibly even GIMP.
make a fire with paint.net
by
theartistic
-It's a nice effect I think, you can play with the size and settings till you get your own fire.
PAINT.NET TILE TUTORIAL
by
cheeny
-Paint.Net, is like Photoshops slightly retarted younger brother. Its an O.k. program as far as free software goes, but spending money on photoshop is worth it. thats why im gonna buy it as soon as i have the cash.
Icy Tiles Tutorial- Paint.NET
by
neonocean
-I made this to show you how I made "Icy Tiles" in my gallery.
Paint.NET Reflection Tutorial
by
chrfb
-This is a simple reflection tutorial in Paint.NET. It works fine with flat objects, with 3D objects the perspective is wrong.
Easy 3d metal chrome Tutorial
by
0-ASH-0
-Tutorial on a method I found when making the piece "More Than Meets the Eye."
Paint.NET Tutorial - Glass Orb
by
Ultiimately
-A tutorial for users of paint.net, so they know how to add a glass orb effect to their images.
Paint.Net -Rain-
by
katana-mistress
-Basically made it because ~RinAK212 asked me how I make rain and beause it would be to hard to explain it, and i was didnt feel like looking for a tutorial on Youtube, i made a tutorial!
Green house flower Tutorial
by
0-ASH-0
-Tutorial on my Green House Flower using Paint.NET.

Dark Stamp Template:+Tutorial:
by
XxRandomXBoredomxX
-Click 'Download' for the .ZIP folder, this is -NOT- a stamp, It's Stamp-Template
Hospital Index
Art Programs Index