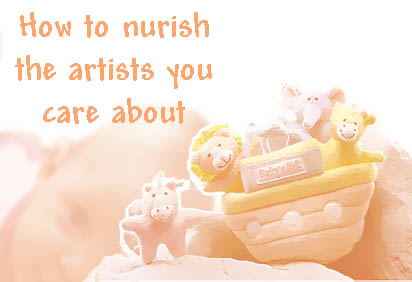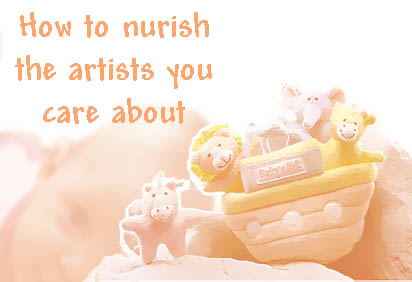 "I have an artist friend, but s/he is having trouble,
I am not so good at art, I tried to cheer him/her up... "

First you must understand the principle of "everyone has a child inside" no matter how grown or talented the artist, their basic social needs is still the same as a baby, if you only praise, you will spoil the child, if you only criticize, you will kill the child's confidence, every child needs a balance of nutrients, so is the artist whom you care about.
What an artist needs:
1.
Acknowledgement:
They need to be acknowledged for what they do, no matter what style or level of artwork they have, giving them the acknowledgement is important.

Give them the "appreciation" of them sharing their art, just being an artist, being the emotional ones they are, and what they do.
You can say: Thank you for sharing your art, or other words of appreciation.
2.
Respect:
All humans want respect, so even if their art is not your taste, look at the effort they put in and make that count.
3.
Praise accordingly:
Don't praise all the time, but also give them a thumbs up when you think they did a good job or really out done themselves, that would make them really want to move on and become better.

Don't tell them you are
"the best artist"
I have ever seen.... because if they believe you, you just made them cocky, if they don't believe you, they would feel uncomfortable with themselves.
You can say: "You are
one of the best artists
I know."
Put them in a group, acknowledging others who are also great, that would make them more comfortable.
4.
Encouragement:
When they feel stuck, or have an artist block, when they are tired, just encourage them without giving them pressure.
Say things like: "I really enjoyed this and that artwork for ____ and ______ quality"
Or tell them what their strengths are in their work: "You are good at ________ and ________"
Or throw some ideas to them: "If you do this and that, it will be so fun! But it's up to you to decide"
Even give some kind of expectations: "I am looking forward to see more updates."
5.
Critiques that gives directions:
Avoid nit-picking:
"Legs too short, arms too long, eyes to big and the head looks weird."
---ok, this is usually what people give, this is what I call "Nit-pick critique" it helps, but the help is minimum. Before you give nit-pick critiques, measure your own strength and understanding of the art terms, and give this kind of critiques carefully.
Good critiques are critiques that give directions to work on, the more ideal would be
critiques on bigger categories,
such as lighting and shadow, compositions, or use of colors.
if you see an artwork that has room for change, give the tips and suggestions according to the room available to change.... if the artwork is completely finished, just suggest what can be done for future works. Usually the artist wouldn't like to go back and work on the same artwork for too many times.
After the critique, leave room for them to disagree and decide, say things such as: "This is just what I see..." or "but it's up to you to make the decision" that would make them feel more at ease with your critiques.
Neglected artists' problems:
Usually neglected artists will easily become depressed, feel their work is unimportant, if one or two person just care and encourage them, they can move on. It's best for this kind of artist to first find a group of friends to keep the interest and art making going, and encourage one another, then slowly grow to become developed artists.
Popular artists' problems:
Popular artists can feel lonely, like the neglected artist, because when there's too much praises and attention, they would feel having "less of themselves" and become more of a "product" that must maintain their popularity. They can easily build their own identity on their popularity, this is why you see a lot of depressed and irritated popular artists.
They can become very defensive on their work, because alot of popular artists tend to get bashed more often than the normal ones as well.