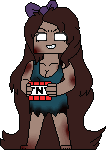 Welcome to Artists-Support! Hope you come and join the fun! Share your art and meet new artists all around!
We are a group family-friendly that evolves around art, photography and all types of media
We support our lovely artists who join here and contribute!
---
BEFORE YOU DO ANYTHING
Do not cause any drama with any of the members within this group, we are here to give support and love to all artists who join!
Do not accuse, harass or bully anyone. We do not tolerate those types of people.
All artists here are learning, improving and/or just wanting to show of their artwork. Please respect that.
Critiques are allowed, but please don't give them to those who don't want it.
Gore is allowed, please mark any NSFW under mature content. We aren't open for that. This doesn't matter how old you are, this is just a safety thing for kiddos
Do not give out your personal information ANYWHERE or HERE at all. This is a public website, and a public group. Anyone can take that information and use it again you.
---

Also, Please Read the Comment Message within the groups comment section for other information or anything else.