The following interview is brought to you by sammyluvsdanny. If you have suggestions for deviants that could be interviewed here, please do send me a note.
Chelsea Bloxsom is the very imaginative plush toys artist behind little monsters, but prefers to stand proud & faithfully behind the name
loveandasandwich
when it comes to her work.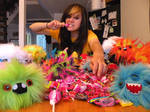 When was it, approximately, that you began crafting & was there any training involved?
Almost 3 years ago I started sewing plush monsters, but I've always been doing something creative or crafty almost my entire life! I taught myself everything from library books & just from trial & error.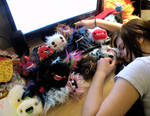 Can you give us a descriptive process of creating a piece?
Sometimes it starts with a bunch of doodles to come up with an idea, other times I just begin cutting and see where it goes. I freehand all my designs, I rarely ever make patterns unless I want to make multiples of one design, but usually most of my work is one-of-a-kind. My monsters are mostly hand sewn, with the finishing parts of sewing the back & fronts together on the sewing machine to save a bit of time, & to make sure they're really strong.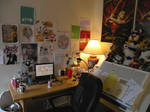 What are the various mediums used?
It's a pretty simple list; I mostly use faux fur, felt, fleece, and sometimes cotton fabric. I have a drawer full of various sizes & colors of safety eyes to which I sometimes use for eyes on my monsters, though, sometimes I may use felt for them. I only use regular thread for everything, even when embroidering facial bits, I just don't like the thickness of embroidery floss needles; it leaves little ugly holes if I need to fix something. Finally I use Polyfil to stuff them up!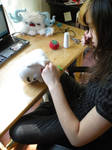 What are your preferred materials that can be used?
Faux fur, definitely. I have such a collection of faux fur, and I always want more!
You seem to know your way with a pencil, are your crafts pre-designed before you make them?
Half & half, if it's something custom ordered by someone, I'll draw it out so they can see what the product is going to look like, or so they can choose from a few. When doing my own designs, sometimes I like to just wing it, especially with my newborn monsters. I just like to cut out colors and then try all different sorts of expressions on them.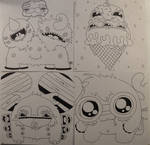 Does the colour combination for your pieces come naturally, or is it well planned?
I guess it just comes naturally. I usually start with a fur I want to use, and then pick felt colors that compliment it.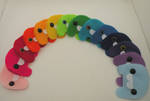 You've created earrings to pillows, is there any difficulty difference, between, smaller scale pieces as oppose to the larger?
I actually find it more frustrating to make really small items. They're so small that I don't like running them through the sewing machine, so stitching the outer rim is very frustrating than sewing something bigger.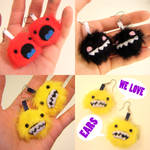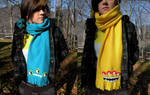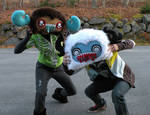 Approximately how long does it take to create an individual piece?
It all depends on the size and how much detail is added to it. I can make a newborn monster in about 20 minutes, but I've also made a 3 foot monster that took me 4-5 days.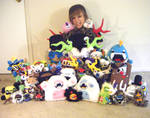 Are you influenced by any other artist?
I'm definitely inspired by a lot of artists. I'm always looking at art blogs and sites, taking in the eye candy. I'm just inspired by monsters in general. Since monsters don't actually exist there's such an endless amount of things you can do with them, and I've seen so much wonderful monster art because of it.
You've done quite a diverse amount of pieces but always, you return to two styles of dolls, beanie pairs & your fury monsters do they have any significance?
I haven't made a beanie pair in a while actually. I don't really like them as much as my other items, I think they're too typical looking and a bit boring. But I think people respond to them & like them so much because they could get them customized to look like themselves. I keep coming back to monsters because I just love monsters! Like I said before the possibilities are endless with them. & they allow me to use all the funky colors of faux fur that I love.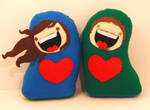 Going through your gallery, you showcase some of your earlier pieces, in comparison to your present pieces would you kindly state the trials you've endured through your creations evolution?
My trials were just learning how to sew, I guess. I had no idea how to sew things when I first started, so it was just a lot of learning from my mistakes. I learned how to make cleaner stitches, how to sew faster with faux fur, (the first faux fur monster i made took SO long) and how to make more interesting shapes rather than just pillow-like plush.
Would you share with us your favorite piece & what it means to you?
I think it would probably be my first Weeko: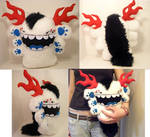 It was the first monster I really was proud of, and it took me a long time to do. I thought he had a solid design as well. I also named my puppy after it.
Is there a particular piece that is most famous amongst your fans & supporters, if so do you have any suspicion as to why?
Recently I think it would definitely have to be my Lion-o fan plush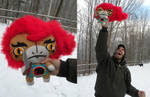 Probably because it's Thundercats & it has a lot of significance in peoples childhoods, watching that show. Which was why I made it. I think it's a pretty good representation of Lion-o, but in shrunk, big-headed form haha
In terms of commissions, have you ever had an outrageous request?
Haha I don't want offend anyone who might have asked me to make these things, but I've been asked to make some plush versions of people's scary artwork. Someone also asked me once to make one of my beanies with boobs, which was a little weird...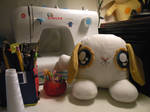 Have you ever participate in shows or exhibitions?
All the time! I love being in shows. I haven't been able to actually be in person for any of these shows, but I've sent my work to a lot of places. Right now I'm working on orders for a shop in Brazil, and one in the UK. I also recently got into Plush You! this year, which is an all plush show in Seattle. I was also just in a show called Cool Kids Never Die, and another one coming up that's themed The Last Unicorn. I also just applied to be in the Renegade Craft Fair in Brooklyn, and I'm just waiting to see if I've gotten in or not! I can't wait.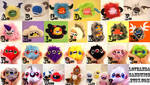 Would you please share with us some of your accomplishments you've earn through creating your crafts & where you see it taking you in the future?
I've been printed in STUFFED magazine twice, and I'm in a book called "Crammed Organisms". My monsters were also featured in Fiber Arts for a show I was in, and a newspaper in NM also for a show. I hope I keep becoming popular & I'm able to be in comic cons & craft shows, because it's much more fun to be out in the open selling goods than being a sewing hermit in your house all day haha