I am going to have my calendar printed in A3- and can't wait for it. I will start with one or two copies and then we'll see. Interested?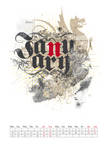 Furthermore at the beginning of each month a will upload a high-res image of the month available for download, and a print version.
Hope you enjoy!
...and let me know your opinions, which are always welcome!
Cheers!