This has been a popular theory in Undertale's fandom, etc. The idea of Chara being the Narrator has been widely discussed. But is Chara
really
the Narrator?
Point 1: Chara's Voice
In Undertale, most of the dialogue is in the same old white font with ordinary "voice grunting." When you meet Chara at the end of a Genocide run, the font and colour are exactly the same, the voice grunting is the only thing that's different.
"But Articuno32," I hear you say, "You said yourself that Chara's voice grunting changes! They're not the Narrator! And when you're doing a Geno Run, their text colour changes!"
I was waiting for you to say that. But that means nothing. Because I have the help of my favourite character in all of Undertale - Sans!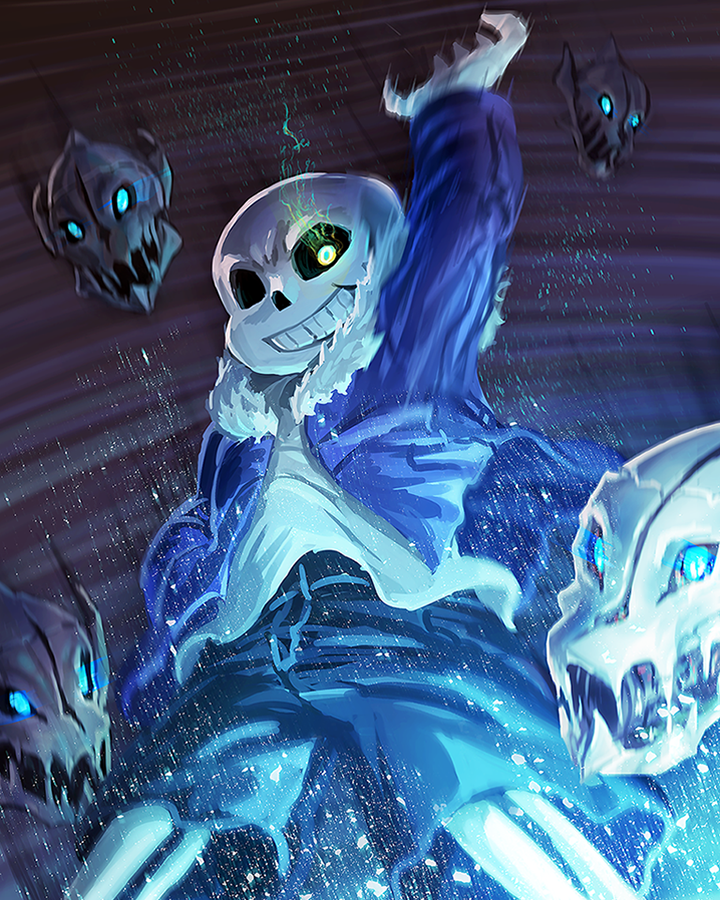 (Credit to the person who drew this)
Whenever Sans gets serious, he often loses his voice grunting. A notable example is in the Neutral Run where you have your second date with Sans at the MTT Resort (if you spared Papyrus) when he tells you that if he had not promised Toriel he would look after you, that you "would be dead where you stand."
He also changes his font colour when he informs you about Papyrus' blue attacks. But he's not the ONLY one to do this.
- Asgore's name is often coloured red or yellow.
- The Smell Danger Rating sign in Snowdin uses different colours for each "rating."
- All characters often speak in white text.
Therefore, the text colour gives no indication what-so-ever about who may be speaking. When Chara speaks in red text, that might just be their feeling strongly about something.
So that's all for this point. Let's move on to the next:
Point 2: Take a Look in the Mirror.
This is quite a simple point. During a Pacifist/Neutral run, if you walk up to a mirror and interact with it, the Narrator will point out that it's you!
But if you're doing a Genocide Run, they will comment that it's them.

See the difference? The same person who points out on the Pacifist and Neutral Routes that the person in the mirror is you will point out the person in the mirror is them on the Genocide Route. Whether the reason is because Chara was possessing Frisk (if you go by that theory) or that they think that you seem to be like them in a way, this is still a strong point showing that Chara is the Narrator.
Point 3: The Narrator Didn't Come Straight Away.
Now I know what you're thinking: "Articuno32, Chara can't be the Narrator! They're soooo deeeeeaaaaaadddddd!"
Yeah, I know. But your Determination brings them back to life. They tell you this!
The Narrator also didn't arrive straight away. When you go to the pile of flowers you landed on, interacting with it will be futile. However,
after
Toriel saves you from Flowey, you can backtrack to the flowers and interact with them.
And
that's
when Chara comes to life. Not at the end of a Genocide Run, but after your run-in with Flowey. Think about it - Chara was most likely buried there, as those flowers were planted by Toriel after Chara fell (because they were injured by the fall, which means there was nothing breaking their fall) and Toriel goes to that spot after you defeat her without killing her. And after Chara had died in the Throne Room, they were given a proper burial. Now how was Flowey brought back to life? By being injected with Determination. Frisk had a soul of Determination. It's likely that Frisk's determined presence of her determined self had simply brought Chara back to life.
Point Four: The Narrator is Empathetic
A Narrator is usually supposed to narrate things. There are two types of Narrators - Rational, All-Knowing, Professional Narrators tasked with informing the audience and the player. Then there's the Empathetic Narrator, who
does
display emotion. The first Narrator type is often a/the storyteller or a god. The second Narrator type is probably a character, usually a major protagonist. The Narrator is more empathetic than rational, meaning that they are a character. There are many times where Chara expresses emotion and a few times where the said emotion gets in the way.
- The Narrator loses it when Undyne is dying on a Neutral Route:
See that! The Narrator is having a breakdown over Undyne's final moments! Her death on the Neutral run is so sad that even the damn Narrator can't do their job properly anymore (if you call narrating a job). They are a character, not a god. Not a storyteller. A
chara
cter.
And that's where their lack of an All-Knowing quality comes in. At first, they have NO idea what a water sausage is. But they can learn what it is. After reading a book on the bookshelf in Toriel's home and returning to the water sausage, you get this: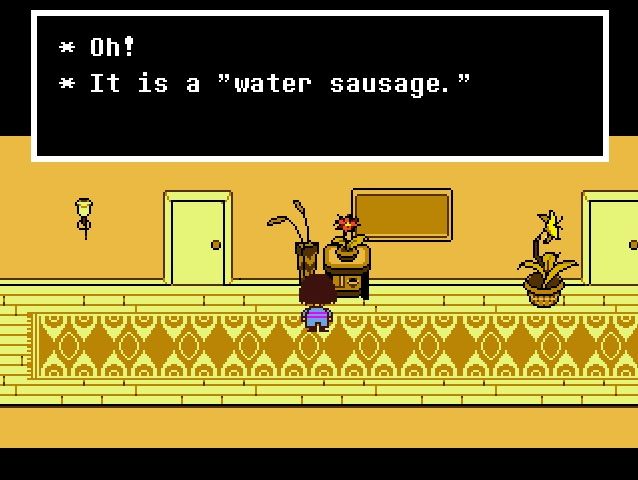 At the end of a Genocide run, they will tell you that "with your guidance," they've realised the purpose of their resurrection. They learn and will learn. They learn from you. They learn from others.
Their tone noticeably changes throughout the game. They get impatient when you examine certain objects such as the snow poffs in Snowdin or the garbage in Waterfall. While fighting the Dreemurrs, Sans and Undyne the Undying, Serious Mode is activated, where item names lose their humour. The Narrator's tone changes and they are more blunt and to the point.
Conclusion:
Chara is the Narrator. They are the voice in your head. They identify themselves and address themselves. They are empathetic and can learn. They are not a perfect Narrator, as they stuff up during some pretty tragic moments. Their tone changes and they have their ups and downs. Chara is the Narrator.