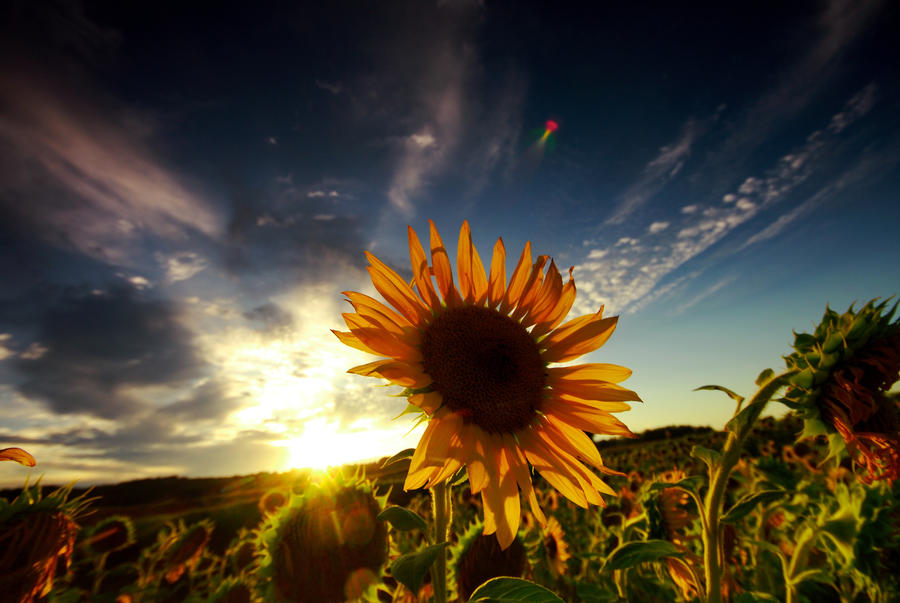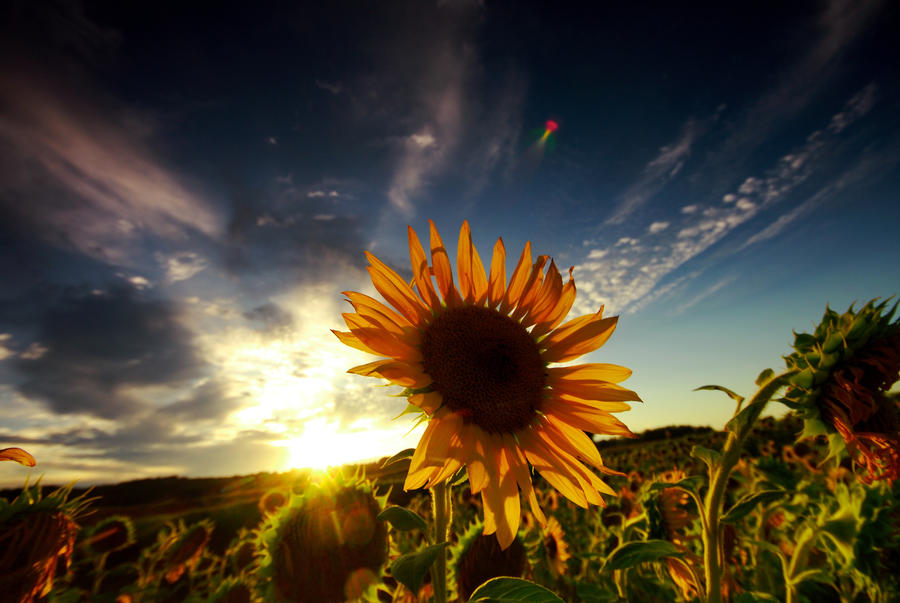 Watch

Full View PLease

Yesterday while having dinner, I saw this great sky ...so I jumped in my car drove like a devil to a Sunflower filed I had spoted two days before.... here's the result ...Hope you like it

La Salle - France
GLAIN07 COPYRIGHT
YOU CANNOT USE THIS WORK WITHOUT MY PERMISSION
I love everything about this shot, even the small rainbow sunburst/camera flare bit above the sunflower! It's a myriad of colours, beautiful greens and yellows highlighted from behind by the sun, and the sky has tints of pink and different hues of blue in it...just wonderful. It brought back summer memories in their thousands when I saw this, even at its smallest view on my 'latest deviations' section. Clicking full view has made me love it even more, you've captured a wonderful moment, at a perfect angle and with perfecct composition. One of your finest, of which I think you need to be very proud!

The Artist thought this was FAIR
29 out of 30 deviants thought this was fair.
Bonjour,
Très belle photographie pour commencer !
La prise de lumière est très bonne, car tu aurais pu facilement ne pas avoir les détails du coeur du tournesol. Or il y a de la visibilité partout, et le ceil n'est pas "cramé".
J'ai mis un tout petit bémol sur la technique, car je ne sais pas si ton arrière plan était horizontal, (si cela avais été le cas, un petit redressement aurai été nécessaire).
En terme d'originalité, ta photo est excellente, et le sujet est très bien trouvé.
Avec quel genre d'appareil as tu réalisé ce cliché?
Compact, bridge ou reflex?
Good job

The Artist thought this was FAIR
4 out of 4 deviants thought this was fair.