The flaming circle of our days
Description
Away from the red lines that I've been playing with recently but still in "architecture" mode.

This time, instead of lines, I played with curves. For this building, which was constructed entirely in Vue, I used the same technique that I used in "Forest Hallway":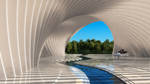 The title is from a poem by Yeats.
Built and rendered in Vue.
Image details
Image size
2560x1440px 891.22 KB