When the first settlers arrived to this exoplanet all they found was a barren landscape.
The whole world was covered with a gigantic desert, scattered with unusual faceted rocky hills. Fortunately, some of the probes found a few pockets of water under the sand, in some scattered places. Encouraged by this find, more probes were sent.
The settlers then established colonies in and around these pockets of water, like the two cities we see in the image. After a complex process of water purification, they planted there some tropical species they brought from old Earth, thereby recreating oasis-like environments. Soon, someone started calling them "sub-oasis", since they were below ground level.
The cities are interconnected by large multi-purpose tubes, hosting a high-speed public transportation and forced water circulation (to balance the water level between cities).
The search for more pockets of water still continues. Until now, they've established 27 of these cities on the surface of this planet.
----------------------
Other related images from my gallery (more on each below):
The Rooftop Gardens of Lyra 7: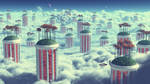 Hidden Garden:
The Colony of Sigma Draconis: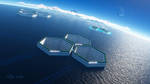 This image is a kind of sequel of my other image "The Rooftop Gardens of Lyra 7", link above.
In Lyra 7, I imagined gardens way above the ground, even above the clouds. Then I thought: why not the other way around too? Then this idea of gardens below the ground, and how and why they would exist, came to my mind. And now it's in your minds too.

This is the 2nd time (at least) that I make an image with vegetation below the ground (maybe I made more, I'm not sure). I remember this other one, "Hidden Gardens", link also above. Maybe you'll find more...

I made these structures loosely based on another set I made for the image "The Colony of Sigma Draconis", link above.
As always, the image was rendered in Vue in a 3D digital world, without painting or photo-manipulation (many people think I paint or use photos to build my images - I do neither).
EDIT: I can tell that there is a man, standing, somewhere in the structure. I wonder if anyone can see him? He's probably just 2 or 3 pixels tall in the image... But in the real world scale of the image, he's 1.8 meters.

EDIT: in the link below you can see where the guy is and have a real impression of the city scale: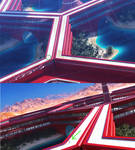 EDIT: I made a kind of "making of":
Image details
Image size
1920x1080px 1.73 MB