The birds seem to enjoy visiting the landing tower, in the middle of the lake. It's almost like they know their bigger flying 'cousins', the spaceships, use this as their base.
She also likes to come here. She likes to go to the ventilation ducts, even though she knows it's against the rules. She doesn't care.
She likes to use this vantage point to gaze at the smooth rolling hills and the smooth rolling buildings from this suburb. The colony capital isn't far but it's here, in Suburb-23, they feel one with nature, far from the skyscrapers and domes.
For some reason, most birds don't like to go to the tower upper floors. Sometimes she goes there to have a better view but most of the times she's happy enough staying here, in the middle floors, where she can have some of the view and some of the birds at the same time.
Sometimes she feels that if she tried, she could fly away with them.
----------------------------------------------------------
I have several other images where the point of view is from within a cave or tunnel. I like to use this kind of composition to give the viewer a sense that he/she is entering a new place, a new world.
Here are some examples: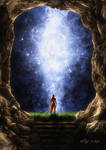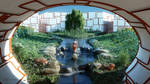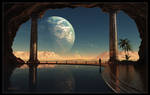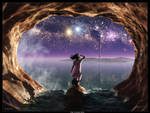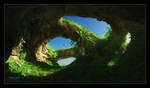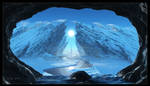 As those of you who follow my work already probably noticed, lately I've been using simple color schemes. This time, I used a "split complementary" scheme with teal, purple and orange. I didn't follow it precisely, just as a kind of guide.
As always, this image was rendered in Vue in a 3D virtual world that I created, without photo-manipulation.
EDIT: after the comment from hairyskeleton, I thought I needed to change something to mitigate that feeling. It was never my intention that humans couldn't touch the nature, quite the contrary, but I understood that feeling from the fact that the structures seem closed. So, I gave them an opening.

I modeled a quick change to the structure, re-rendered that bit and stitched it all together. Hope that feeling is somewhat minimized now.

Image details
Image size
1920x1080px 1.15 MB