Description
-------------------------
A bit eccentric, perhaps.

I wanted a similar style to this other one I made a few weeks ago, like if it was another place in the same world and time: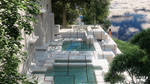 Well, in fact, I used this same color scheme in several images in the last few months... Here are some examples: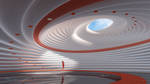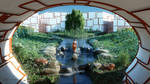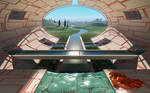 I built the structure in SketchUp, rendered it in Vue. My biggest problem here was deciding when to stop building it because I just wanted to go on and on and on...

EDIT:
Several people commented on how dangerous this can be. Well, fear not because those orange stripes are in fact a force-field generator, automatically activated when someone, equipped with a "Kinetic Bracelet", enters their area of influence. The force field will automatic cancel the kinetic and potential energies of your moving body if, for example, you happen to slip and fall. Therefore, you will effectively stop your fall and start floating above the stripe. The "Kinetic Bracelet" will then call your "Hover Vehicle" to the proximity and you will be able to jump on board and select your next destination.
The "Kinetic Bracelet" has an "adventure" mode which you can activate and will cancel the effect of the orange stripes. This way you can dive between levels at will. Do it at your own risk. The insurance will not cover accidents if this mode is activated.
The "Kinetic Bracelet" has an "extreme" mode which will randomly change the effect of the force field. For example, it can increase your kinetic energy and decrease your potential energy, thereby allowing to make huge jumps effortlessly. It's also extremely dangerous... and, of course, the insurance will not cover any accident.
Warning: not all areas are equipped with orange stripes. The "Kinetic Bracelet" will not let you move in these areas unless you set it to "adventure" mode.
Image size
1920x1080px 1.04 MB