Description
Another human colony in a far away world... I really like this subject. Here are some other images I made with the same subject: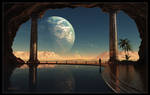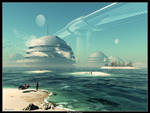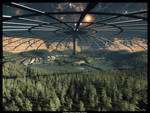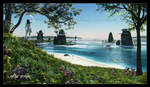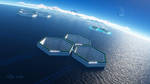 As always, rendered in Vue.
EDIT: this image has a companion, here: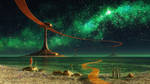 Image details
Image size
1920x1080px 1.07 MB






Overall





Vision





Originality





Technique





Impact
Before starting anything here, I'll say two things: everyone needs to thank the artist for this and the artist should continue.
So now let's begin :
It's really cool to see futuristic things look a bit realistic and you master this aspect of art. Every corner of this drawing seems real, from the plant to the rocks. Even the structures look realistic. For me, it's very important to have some reality in SF based Art and some artists lack it. So I really love the way you had to draw this art.
I don't know what the picture means though. What do you want to show? I don't know ... Personally, I think this picture lacks a purpose. But, I think this is also kind of cool. Why? Because it is the essence of art itself. Sometimes art doesn't need a purpose, it's just here to show the beauty beneath itself. So I'm not convinced about this part but that's not really important.
The most important part here is the impact :
- "Wow" was the first word I said about this drawing. You mastered the impact of your drawing. It's futuristic, realistic, cool and beautiful!
Love also the colours used. The water is my favourite texture in this masterpiece. So beautiful, so real, I can feel it though I'm in a room.
Combined with others pictures, this one could make a good art Universe! I'm looking forward to hearing more of your art!