I am getting rid of unsold characters or characters i have seemed to have no luck getting rid of!
They will be cheap and with some i wont be as picky!
Gaia Adoptables: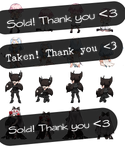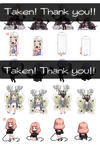 <da:thumb id="784980368"/>
Feline Adoptables: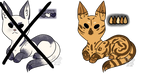 Toyhou.se Adoptables: toyhou.se/MoonMilk/characters/…
These are all the characters i have gotten that i literally dont draw at all!
I am
HIGHLY
interested in...
Gemsona characters

BNHA Characters

DA Points [NOT FOR GAIA ADOPTS]

What i will be
picky
about...
Characters that arent human [humanoids that arent furries are okay!]

Art [ I barely have any characters!]