136 Favourites
132 Comments
736 Views
When I first took a shot of this building (from another angle) I thought it was one of the colleges of the university... Well (not for the first time!) I was wrong!!
Originally it was part of a Roman Forum - the two lowest levels (below ground) are the (almost intact) foundation structures and "catacombs" of the forum - and are still accessible - from inside the main building... Long years later the above ground structure was removed and a church plus a large and grand building "the Bishops Palace" was built... around 100 years ago it changed "life" again and became a museum - and a very fine one it is too - with structures and objects from Roman times up to the end of the 17th Century CE.
The guide says the following: "Situated next to the University, half way between the two cathedrals, and occupying a place that used to be the forum of Aeminium, the museum is an essential stop not only for the treasures it contains but also for the impressive views it offers" - I totally agree!
Dedicated to some folks who have birthdays this week:



And to some good friends who deserve a gift - they know why!!














My first shot...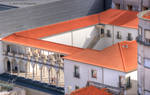 IMAGE DETAILS
Image size
4092x2788px 1.73 MB