Gallery
l
Sketchbook
l
Watch Me
l
Commission Info
l
Note Me
[EDIT]CLOSING THOUGHTS: rianald.deviantart.com/journal…
Original Picture: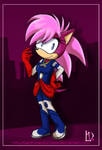 How it was applied to the game:
The video that Steve has made:
www.youtube.com/watch?v=-9WC4E…
*******************************************************************************
I would like to make a little follow up to further my opinion of what happened.
First I would like to address of the possibility that the above is a hoax. Honestly, if it were, then I would be a victim of misunderstanding. However to my knowledge, SASR hasn't been able to be modded yet.
Also, from what I hear (I can't confirm this myself unfortunately because I don't own the game) you only see it on the Wii and the PC versions of the game.
Kevin Eva, manager of the SEGA Europe Community, had this to say, "[My theory is that a] SUMO designer mocks up some images as the characters as playing cards for review with them in game early on in development cycle, mistakingly using the wrong pink hedgehog through some google image search or something and end up using Sonia instead – and one of the instances of the work in progress card gets missed when replacing them for the final article[.]"
I wholeheartedly agree with this theory.
As for me to take any legal action, I most likely will not because I really don't have a leg to stand on. Sonia belongs to SEGA/DiC Entertainment, I just happened to draw Fanart. Thankfully, deviantART is awesome and time-stamps deviations. I have no Creative Commons license applied to the picture, and I only had a little copyright image on it because, at the time I drew it, putting (c)s on things was pretty cool. I knew at the time it was void. Even if I had the right to take any legal action against SEGA, I probably wouldn't. If anything I'll write them a note thanking them for using my artwork in their game.

My parents even suggested I contact them if they'd hire me. Haha.
I've also gotten suggestions of doing internships with them. Sounds like a good idea, but I think by the time I get around to it, they might forget.
Also, in the end, I guess I am pretty flattered with this.
I also find it painfully ironic that the whole thing happened right after my latest school newspaper issue featured an article on art plagiarism in which my good friend
aesujin
and I were interviewed for! Go figure!
Thank you for your comments and your support!

I hope everyone has a wonderful evening.
CSS made by TwiggyTeeluck
Background image by AF-studios
Brushes by SummerAIR

I'd be pretty shocked, but happy if Sega were to use something I'd draw in any of their games, even if it was just as a placeholder!