We are currently experiencing tec and communication issue. Please bear with us, August should be a better Journal.
This month, I have the Honor of presenting

1. Why are you on DA. What brought you here?
1. What originally brought me was the fan art but since I loved to draw myself, I decided to lurk a bit and see what could inspire me and what other artists are drawing, eventually I began to post my own work but I only became very active in posting on here about a month ago. It has been a big source of inspiration and motivation for me since then.
2. What are your plans (if any) with your art?
2. My plan is to someday sell prints and be able to make some income with it, currently I'm too young and not confident enough in my abilities to do it, but I hope that I'll be able to in the future.
3. Show us 2: of your best, your favorites and your first submissions here on DA. (This is a maxim of six of your artworks or stories; you can select fewer if you wish)
3. the artwork I consider to be my best/ favorite:
Little Miss Red Shoes by Dontgiveafvck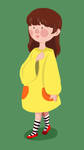 Renes Mushroom by Dontgiveafvck
my first submissions on DA are a bit embarassing to look back on but here they are:
Left Brain Right Brain by Dontgiveafvck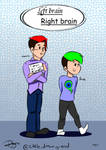 Some crappy old drawing by Dontgiveafvck
4. (Tools and programs) what type of media(s) do you use/prefer. Amount of time to produce your art?
4. I use Wacom Intuos Draw and Krita when working digitally, when I work traditionally I use either watercolours or ink. The time a piece normally takes is about 2-3 days because I spread out the work and I occasionally take breaks.
5. What inspires you, the ideas behind your art? Anything you want to share to inspire others?
5. A big inspiration to me are the artists I watch on here and on other social media, to watch them improve and to look at their pieces pushes me to improve my art. Another motivation are my family and friends who support me in every way possible. I usually draw my art directionless and just see where my mind takes me! What I'd like to tell other artists to inspire them is: Don't give up. Even if you think that you aren't improving and you think your art looks crappy, you will eventually improve as long as you don't give up and continue to work. It's all about the practice!
6. Anything you want to add we have not yet discussed?
6. I'd like to thank JWA2277 for giving me the opportunity to be featured on here!