Story of the Snow Leopard
[link]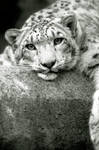 The Snow Leopard Trust (www.snowleopard.org) needs our help!
They would like us to sign up for their eNews. For every new free subscriber, the Kearsley Fund will donate $2 to the Snow Leopard Trust. Their goal is 3000 new subscribers!
Visit here for eNews:
www.snowleopard.org/enews
Please, all of you big cat lovers out there, sign up today and copy this to others and spread the word! With just a little bit of effort, we can make a big difference!

My Most Faved Works