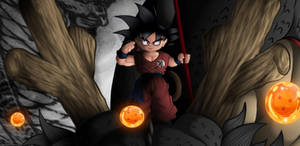 Basic
Basic access for everyone. To support me 😉 Free Download and promotion on commissions.
---

Description
The Prince
It was a scary idea to me to attempt to make a character from one of my favorite shows of all time, Dragonball Z. Not to mention, I would be doing my own rendition of a character that was created by Akira Toriyama, my favorite artist of all time. The lats thing I would want to do is destroy one of his amazing designs. I hope that this rendering embodies all that Vegeta is...
I hope my rendition in 3D reflects his notorious arrogant pride and short lived brash attitude. His evil tempered heart, molten and smoking with rage.
Programs used:
ZBrush (Sculpting and rendering with BPR.)
3dsMax (Blocking out geometry.)
Photoshop (Comping render passes from ZBrush, and making final adjustments.)
Topogun (Recreating head geometry for sculpting.)
Roadkill (For unwrapping geometry.)
Featured on:
Rampaged Reality
[link]
Grapheek
[link]
Do you have 3D glasses? See him in 3D here!
[link]
Image size
1800x1123px 1.2 MB