1K Favourites
51 Comments
22K Views
This image done in collaboration with my friend and colleague
icephei.deviantart.com
He create this beautiful 3d scene, check here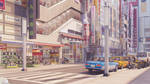 My work here is render compositing, color and light post process + stylization and time variants.
Here as an example night version
.
other joint works

Background created for "Love, Money, Rock'n'Roll" visual novel game, where I work as main background artist!
Please check our work,
store.steampowered.com/app/615…
PLAY DEMO and maybe support project! Hope you like it!
VVCephei deviant art
icephei.deviantart.com
VVCephei pixiv
www.pixiv.net/member.php?id=31…
------------------------------------------------------------------------

INSTAGRAM
www.instagram.com/arsenixc/


TWITTER
twitter.com/ArsXC


FACEBOOK
www.facebook.com/arsxc.art/

Pixiv
pixiv.me/arsenixc
twitch
www.twitch.tv/arsenixc
vk
vk.com/arsenixc
Image details
Image size
1920x1080px 2.26 MB