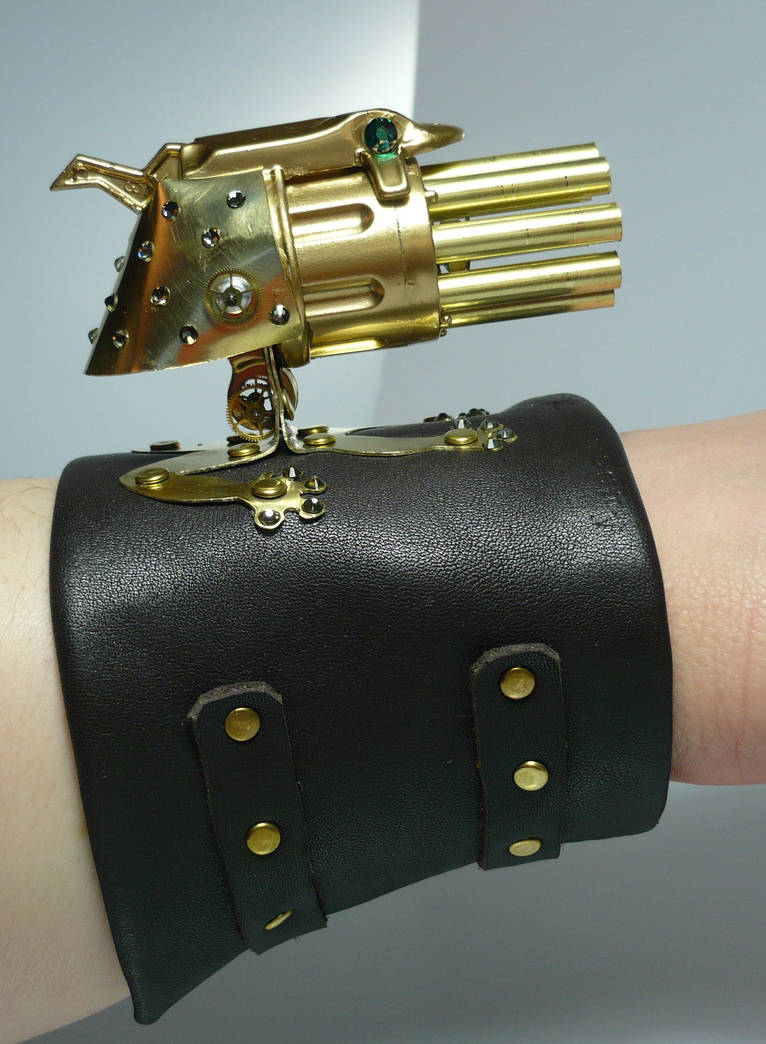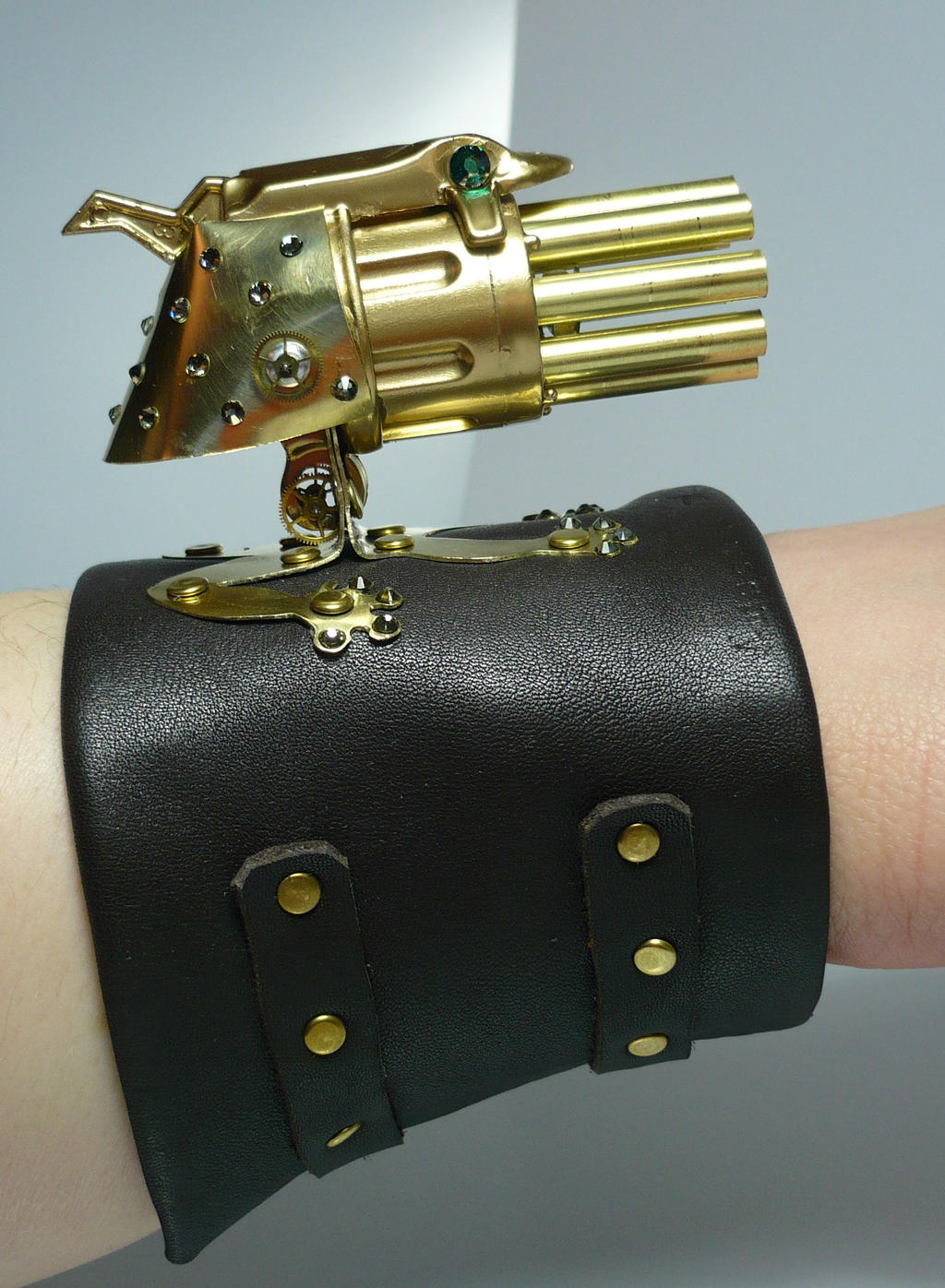 Available on Etsy
Lady Froggy
[link]
Little Froggy
[link]
This shiny "LADY FROGGY" was made as an exclusive and much more delicate alteration to the already known and famous (male) Froggy wrist Gatling gun, which received a Daily Deviation on Deviantart and was featured in the book "Steampunk - kurz & geek".
This wrist Gatling gun is the perfect counterpart, fitting to grace any steamy Ladies wrist.
Beauty and the Beast, she is both!
Stunning in it's twinkling gold brass color and its sparkling genuine Swarovski gems, yet deadly with its eight barrels ready to deliever any non-gentleman-like behaving Joe into oblivion with a load of lead."
This unique handmade piece of art can be a perfect display piece in a cabinet, as well as a fully wearable accessoire for any Ladies Steampunk costume.
It's made from polished brass, plastic, metalizer FX laquer and 36 genuine Swarovski Strass black diamonds as well as 2 Swarovski Strass emeralds.
The wrist bracer is made from finest genuine leather which is as smooth and soft as the Ladies skin, that will wear it with no sewing seams on the edges at all as it is specially punch-glued.
Although it looks like a fully functional weapon, this is a NON-FUNCTIONING prop. However the barrels are freely turnable mounted.
It has a prod. number embossed into the leather and an owner's certificate with the specific no. will be provided as proof of authenticity.
Available on Etsy
Lady Froggy
[link]
Little Froggy
[link]
more pictures:

Ooo. Now that is very cool indeed.
Reply

Thank you.
It's always very much appreciated. Especially from such a miniature art master like your self.

Reply

Reply

Thank you my dear.

Always a pleasure to amaze even such accomplished artists like you are yourself.
Reply

*blushes* Oh my. Well your work certainly is worth the praise. You can really see the depth and detail you put into each of your pieces. I am looking forwards to seeing more of your art in the Steampunk gallery!
Reply

Thank you.
It's a pleasure if someone appreciate the details, as indeed I love to incorporate details. The more (sensible) the better.
It's probably a carry over from my aeroplane modeling.
There I'm trying to build "5 centimeter models":
Not meaning the models are all 5 centimeter big, but they have a certain effect:
at first you stand five meters away and think "hm, nice models" than you get closer to 1 meter and think "wow, the details" ending up 5 centimeters infront of the models, still discovering new miniscule details.

Maybe you want to keep an eye on my gallery as I'm not publishing everything in Steampunk group galleries and there's much to come in the next months.
Reply

I love that sort of work! I try and do a similar thing with my eyes! Details in details as they were

I've added you to my watch so I will be able to see all the new and fun things you come up with! Looking forward to seeing the next pieces!
Reply

Yes, I noticed that. That's why I like your eyes and am constantly fascinated by them.

And thank you very much for the watch.
I hope you will enjoy the future creations. I wouldn't want to disappoint you.
Reply