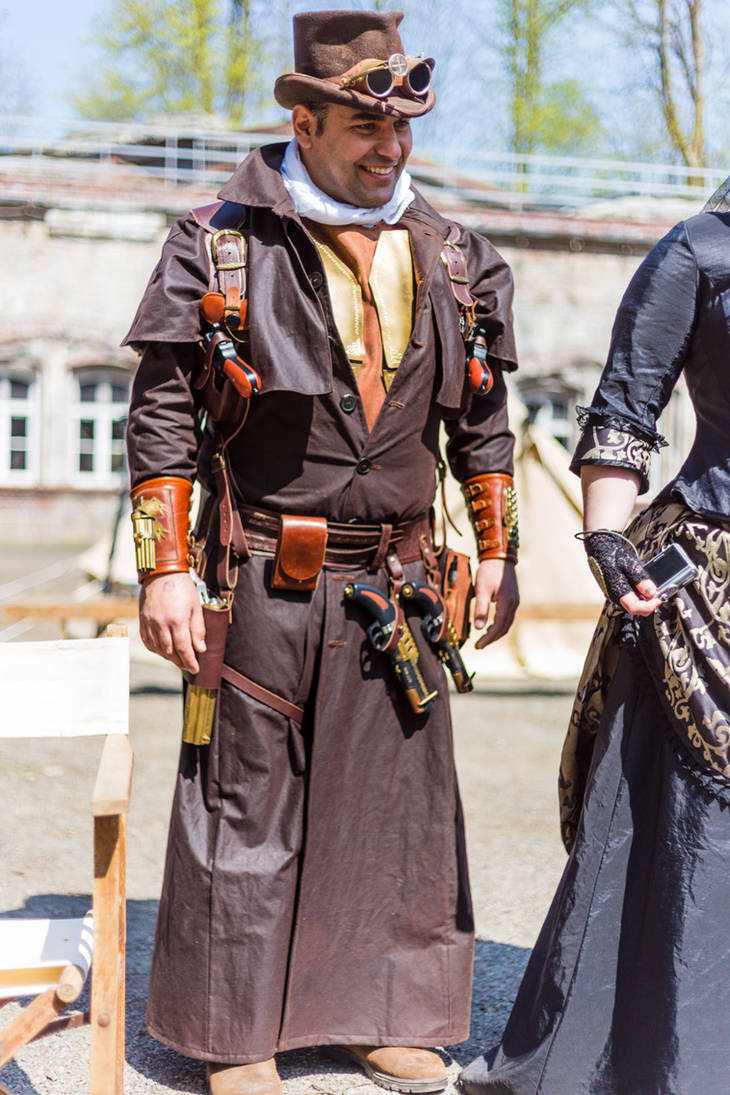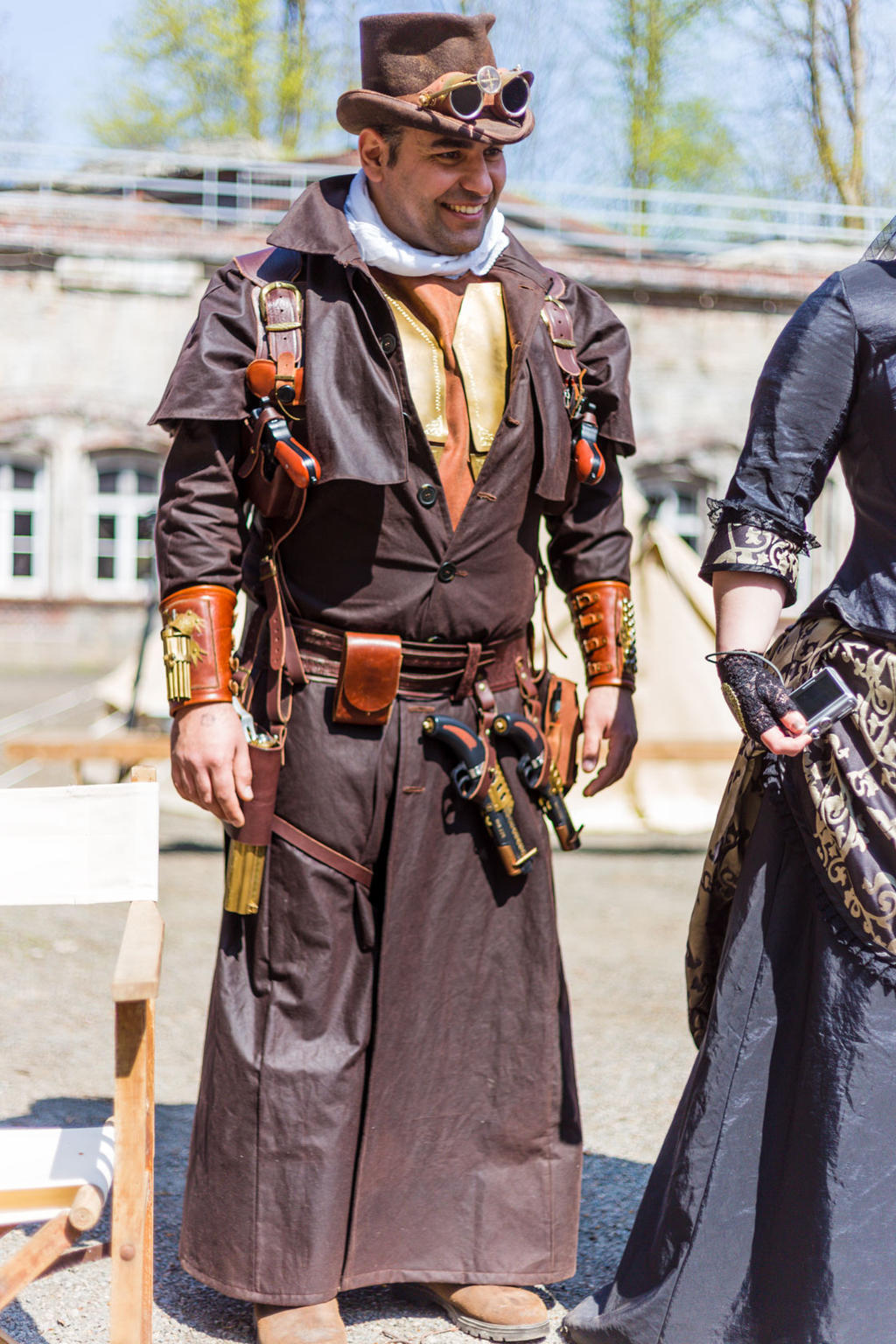 This is it!
Finally after showing the gadgets from this outfit for more than a year back, I finally present the first image of it all worn together.
This beautiful picture was taken by

, besides being a very talented photographer a fellow Steampunk and despite of his grim looks the nicest guy you can imagine.
Most of the gear you already know if you took a strole through my gallery.
The coat was inspired by

witchhunter 2.0 and was sewn by Miss Jules H. Aetherton from the finest Antique Waxed Cotton Barbour Type. A beautiful high quality material I had ordered directly from the manufacturer in the UK. I really love this coat!
Though already looking quite overloaded (by now you finally should guess why I chose my name), the whole outfit is still far from being complete and probably will be the one outfit staying in a constant evolution.
Still missing is the Medusa Rifle, the Kraken shinguards and the Mammoth twin blades.
Also the 228s will be upgraded to deluxe level, the holsters still need some refinements and functional Mark 2 versions of the Froggy wrist Gatling and the wrist computer will follow someday.
Here in my Flickr WIP stream you can take a look at a small quick preliminary sketch I did for the Hunter outfit and compare it to the real deal.
[link]
Of course as usual comments and critiques are welcome.

Reply

Reply

Well done! Were you at DragonCon 2012? You'd have given them conniption fits with that arsenal. They were tagging all weapons.
Reply

Thank you.
No, sadly I wasn't on the Dragon Con 2012 (a bit far of Europe, though hoping to be able to attend the Steamfair 2014).

Probably, or I had been looking like an advertising column afterwards with all those tags dangling...
Reply

Awesome look! Bad@$$ but not evil bad, just hunter awesomeness! Love it! Great to see concept sketch to reality

Also, thank you so much for all the links and info, awesome to get some sources on these!
Reply

Uhoh, the man with the big scythe has found me...

Thank you!
Jep, that's the attitude. Bad@$$ Hunter like Boba/Jango Fett with a code of honour, but contrary to those two guys with a dry sense of humor as well...
And you're welcome. It's my adamant rule to give credit where credit is due ("redde Caesari quae sunt Caesaris" as the old romans say).
Where would we all be if we wouldn't be inspired by others?
So I always try to give something back in the way of accounting for the ones who inspired me and hopefully with what I've made as well.
Reply

I see the dry sense of humor has struck already

I think the shear arsenal of guns and gadgets you have would move than cover you against a wee scythe...
Kudos to you for sharing, it is really good to see and helps others too. Finding out about that cotton barbour, well at least what that oiled canvas looking material is actually called, is so very useful and inspiring, thank you!

Reply

Well, although it's not even complete yet, it should be sufficent for a small army..

No problem. I obtained the waxed cotton from here
[link]
They offer a variety of colors too.
Though shipping is due to the weight (my 10m were quite a heavy and big roll of cloth) a bit steep if you're not in the UK. But still (at least for shipping to Germany) it was still cheap for a quality I didn't even came near in what I could have bought locally for double the price.
Reply

Reply