[UPDATE]:
And the collab pic is up! Thank you all for joining!
It's that time of year once again.
Every year, I hold a collab where each artist submits a character to prepare for the Thanksgiving parade.
Due to the angle this year, I'm going to give street floats one last try. If this one doesn't get enough float entries, this will be the last collab that will have them. Like the balloons, it can be a normal float or someone TFed into one. To help with the point of view and the direction the characters are facing, here's what the background and layout example looks like: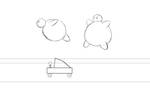 Even if you're not from the US or you don't celebrate Thanksgiving where you are, you are allowed to enter the collab as long as you follow the rules.
Here are the rules:
1) Post in this journal or note me if you wish to enter.
2) Must be your own original character. No popular trademarked characters.
NO EXCEPTIONS
3) For the non-artists (writers for example), you can have another artist draw your OC for you on the condition that they have permission from their creator/owner to do so. This applies only for the non-artists. The idea behind the collab is to see other people's styles in a single page and it loses that feel if only a couple people did all the work. No templates please.
4) Having the entry colored is encouraged due to more time available to finish.
5) I'll provide the background so do not draw your entry on a background. Transparent background is preferred to make it easier for me. If you cannot make your character on a transparent background, just put it on a white background and I can do it for you if needed.
6) When your entry is complete, link me to the drawing so I may prepare them for the parade.
7) The point of view will be looking at the parade from the side so the entries will be facing directly to the left. I will allow facing slightly towards the viewer due to the point of view. Here's my entry and one of my past entry for an example: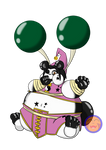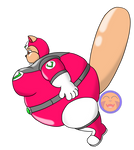 8) For the balloons, I will accept either inflated characters or characters transformed into parade balloons. For the street floats, I will accept a normal float or a character TFed into a float.
9) The deadline is November 25th, the day before Thanksgiving day. The finished collab will be posted on Turkey day.
10) Currently, there is no limit to the amount of characters you can enter. However, if there are too many characters entering, I will set the limits.
11) Try to keep it PG. What this means is don't have a character look like something that couldn't be shown on national TV. i.e. complete nudity, drug and alcohol references, etc.
In addition, I'll take a couple commissions just for the collab. The price will be $10 per character and full shaded. At the moment, I may only be able to take up to 3 commissions at a time. Just leave a comment or note me if you want a commission an entry from me.
Collab commission list:
1)

(payment received/DONE!)
2)

(payment received/DONE!)
3)

(payment received/DONE!)
4)

(payment recieved/DONE!)