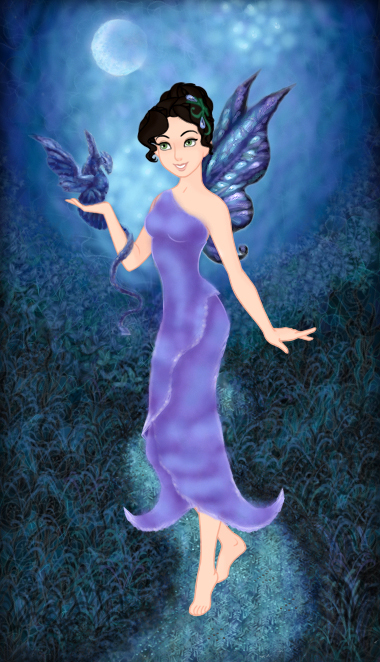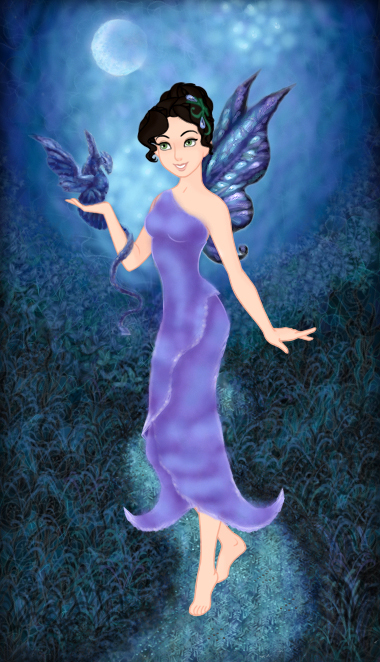 I joined this challenge quite a while ago, but it is now when I post my first submission for it.
The models in this challenge are mythical creatures that can take more or less humanoid form.
I chose the one titled ''fairy''
(to be honest, mostly because I found her appearance the most convenient in the matter of working with designs).
To me, fairy is a mythical being with magical abilities, however not the Fairy Godmother type. Instead she is someone more close to nature, and able to speak to animals, both common and magical ones.
I gave her elven name Torel that means ''of forest'', which is quite fitting since she loves nature and lives in a forest.
She has magical abilities as well, for example she can grow wings and fly, or to weave a spell, so there is something about her that one would call ''a witch'' too. She is definitely a good one though

.
I do not know too much about her character yet, but I know that she is kind and very protective to all living beings; of course to animals and plants especially, because those often cannot defend themselves. But she would help anyone in need.
Also,
Daughterofthehunt10
, I would like to know more about the fairies in your story in order for me to imagine her personality more precisely as well as her place among her folk and in their world. Without that, I fear I would make a lot of mistakes about it.
For example, I presume that she does not like winter (because this is the time of death or at least sleep for many living beings in nature, and it is too cold to walk barefoot), but I am not sure if there is winter in that magical world.
What she likes:
nature, walking barefoot in the nature, helping the living beings with her magic, the colours green and blue, dreaming, studying...
Now, about the picture.
First. It was completely made out of D&D in the game, including the background.
You can look at the WIP here
.
Second. The following rounds will be most likely drawn with graphical editor, because high quality D&D making takes too much time at once. This picture altogether took over 14 hours.
Fantasy Challenge by
Daughterofthehunt10
in her

group.
There you can meet
Phoenix by
LavenderSeaFairy
Unicorn by
CatWoman-cali-onyx
Dragon by
liz-blizz
Mermaid by
MadastheHatter27
Pegasus by
Arimus79
Pixie by
Rai-Knightshade
Gnome by
bigpinkbow197
Ghost by
allyvania88
Troll by
liz-blizz
Ghoul by
TheSilentNeko
Hippogriff by
DarkQueen013
Griffin by
Sonicgirl141
Fairy by me (
Arrelline
)
Basilisk by
GingerDancer
Werewolf by FictionLover987
Angel by
MasterOf4Elements
Demon by
msbrit90
Genie by
MilleniumHopeArtist
Faun by
flowerpower71
Vampire by @
bigpinkbow197
Elf by
xoxserenityxx
Zombie by
Daughterofthehunt10

Shadow by
Daughterofthehunt10
Neko by
DarkQueen013
Hippocampus by
Whirlpool24
Kelpie by
flowerpower71
Thunderbird by
Sonicgirl141
Leprechaun by
MadastheHatter27
Skeleton by
allyvania88
Sphinx by
MasterOf4Elements
Kitsune by
Daughterofthehunt10
Yeti by
GingerDancer
Manticore by
chocolatelover09
Enchantress by
xoxserenityxx
Frankenstein creation by
EsmeAmelia
3 Headed dog by
Aralyn187
Frost Giant by
evilredcaboose
Fire element by
Rai-Knightshade
Water Element by
Whirlpool24
Earth Element by
EsmeAmelia
Air Element by
Arimus79
Timelady by
allyvania88
Gargoyle by
MasterOf4Elements
Goddess by
Aralyn187
Cat Sidhe by
FictionLover987
Qilin by
electricjesuscorpse
Mummy by
CatWoman-cali-onyx
Reaper by
AdoptablesLiveHere
Nutcracker by
Sonicgirl141
Gingerbread Girl by GingerDancer
Snowman by
EsmeAmelia
Reindeer by
Aralyn187
Mythbeast by
DarkQueen013
Niffler by
msbrit90
Centaur by
evilredcaboose
Mutant by
flowerpower71
Credit
Made with D&D in Snow Queen Scene Maker by