Update, August 15th, 2014


The final installment, pages
135
and
136
, are here. Thank you all for sticking with me to the end.
P.S. Happy Birthday, sis!

If you are enjoying The Night the Magic Died, here are some other comics you might enjoy:

A collaboration between myself and my sister,

, that we started in 2,005, and finished in 2,010

A dark-fantasy comic by my sister,

. It is absolutely amazing. Go check it out, now. Seriously.
Also, follow me on twitter! My handle is @Eroffie.
See you around the internet!
Featured Art
Pictures drawn by some very sweet people. Go show them some love!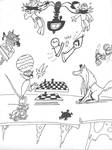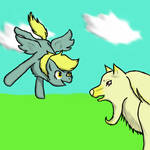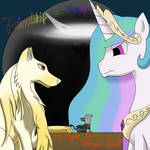 About this project (Original Entry Posted on August 2nd, 2012):
On a whim, sometime a little over a year ago, I discovered and watched an episode of a cartoon called My Little Pony: Friendship is Magic. Finding it was to my liking, I started watching each episode as it came out. It was fun, some episodes I liked more than others, but never was there one that disappointed me.
Come the finale of Season 2, I was, to put it most sweetly, inspired. I wrote a fanfic,
venting my rage
expressing my excitement about the season finale and the events leading up to it. I talked about it with my friends, I even got the fanfic polished to a point where it was almost presentable.
That was about two months ago, and now, I present to you my webcomic adaptation of my fanfic: My Little Pony: Friendship is Magic: The Night the Magic Died! If you're a fan of FiM as well, Don't let the title frighten you. It all turns out okay, but there will be a trip through hell and back to take on the way.
I will be posting this on DeviantArt
and
Furaffinity, two pages a week, starting today!
I will be using this journal as a page index, and as a nook where I will try to answer any questions you may have, etc.
So, without further delay, enjoy!
[Friendship is magic: The Night the Magic Died Gallery!]
[Page 001: The Rulers of Equestria]
[Page 002: Crash Landing]
[Page 003: What's a ***?]
[Page 004: Read ALL the books!]
[Page 005: It's like not sneezing]
[Page 006: Now THIS is a train]
[Page 007: Nat, you're a jerk]
[Page 008: It's funny because XXX]
[Page 009: Gear up, everypony]
[Page 010: Teacups are awkward for him]
[Page 011: Got a problem with puns?]
[Page 012: 4th and 5th wall breakdown]
[Page 013: The Call to Adventure]
[Page 014: Psychic Disguise]
[Page 015: Leading The Wolf to The Nest]
[Page 016: This Just Got Real]
[Page 017: She can go about her business]
[Page 018: Little Miss Brass-Balls]
[Page 019: Sit down, girl]
[Page 020: The Table is Set]
[Page 021: Diplomatic Middle Finger]
[Page 022: An Amicable Arrangement?]
[Page 023: Why we don't intervene]
[Page 024: Daydreaming]
[Page 025: This mistrust is mutual]
[Page 026: Friendship Worth Fighting For]
[Page 027: Equestria's own Diagon Alley]
[Page 028: Technicolor Monstrosity]
[Page 029: Wand Lore]
[Page 030: Auto Didactics for the Win!]
[Page 031: Who is this Bro person?]
[Page 032: A level-up in Heart]
[Page 033: Entrapment]
[Page 034: Flight or Fight]
[Page 035: Fluttershy's Shadow]
[Page 036: Healthy Coping]
[Page 037: Breaking The Cycle]
[Page 038: I Art Thou, Thou Art I]
[Page 039: Kindness Reborn]
[Page 040: Sign of Doom]
[Page 041: A Shift of Balance]
[Page 042: Baa Ram Ewe]
[Page 043: Don't Give Her Coffee]
[Page 044: Getting What You Wished For]
[Page 045: A Hard Question]
[Page 046: All Shall Love Me and Despair]
[Page 047: Deaf Virtuosos]
[Page 048: Back to Basics]
[Page 049: A Disturbance in Canterlot]
[Page 050: Rite of Passage]
[Page 051: Bringing Down the System]
[Page 052: Eureka Effect]
[Page 053: Tastes Like Diabetes]
[Page 054: Ulterior Motives]
[Page 055: The Truth...]
[Page 056: ...And Reconciliation]
[Page 057: I See What You Did There]
[Page 058: The Audience Now Know All]
[Page 059: Your body is NOT ready]
[Page 060: Extraordinary Claims]
[Page 061: Unintentional Offense]
[Page 062: Prime Directive Defiance]
[Page 063: Well Founded Doubt]
[Page 064: Ordinary Proof]
[Page 065: Fear, Anger and Hate]
[Page 066: Psychic Hulk]
[Page 067: J'accuse!]
[Page 068: History With A Different Spin]
[Page 069: No White-Knighting Allowed]
[Page 070: The Tinker Bell Effect]
[Page 071: Twist The Knife!]
[Page 072: Violence Begets Violence]
[Page 073: Disillusion]
[Page 074: The Monster Rage-Quits]
[Page 075: Yes, This is Happening]
[Page 076: It's Not Swearing]
[Page 077: Suffering]
[Page 078: Everything'll be Fine--Right?]
[Page 079: Let Me See the Script]
[Page 080: Growth Pains]
[Page 081: Regret]
[Page 082: I'm a Cameo!]
[Page 083: Stain of Shame]
[Page 084: The Storm Rolls In]
[Page 085: Silence Will Fall]
[Page 086: The Question is Asked]
[Page 087: Meat Bicycle Built for Two]
[Page 088: The Mystery is Solved]
[Page 089: Evil Wins When Good Act Not]
[Page 090: Taste the Rainbow]
[Page 091: Hindsight]
[Page 092: Flickering Light of Will]
[Page 093: Running on Fumes]
[Page 094: Wait! It Gets Worse!]
[Page 095: The Magic Dies]
[Page 096: Supernatural Aid]
[Page 097: Escape?]
[Page 098: Accepting the Call]
[Page 099: Crisis Response]
[Page 100: Leaving Canterlot]
[Page 101: The Belly of The Beast]
[Page 102: Labored Cadance]
[Page 103: Celestia's Shadow]
[Page 104: Nadir]
[Page 105: Better Late than Never]
[Page 106: Huff, Puff and Bluff]
[Page 107: Atlas's Understudy]
[Page 108: The Heroes are Chosen]