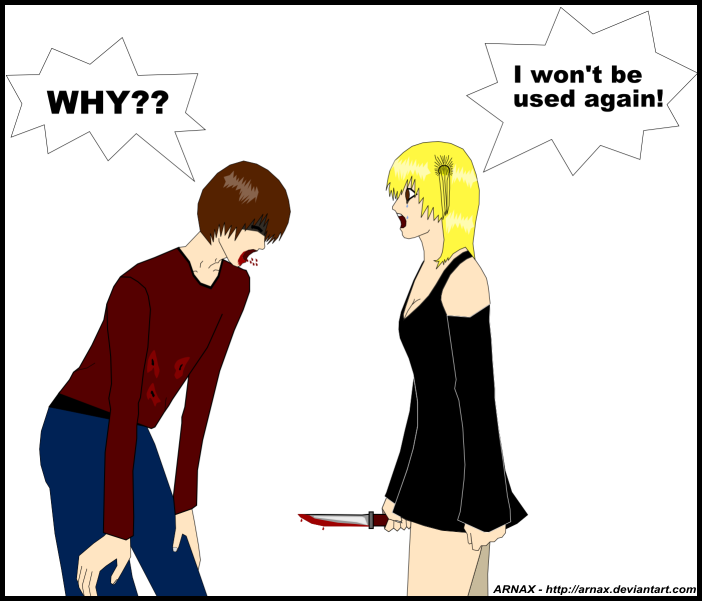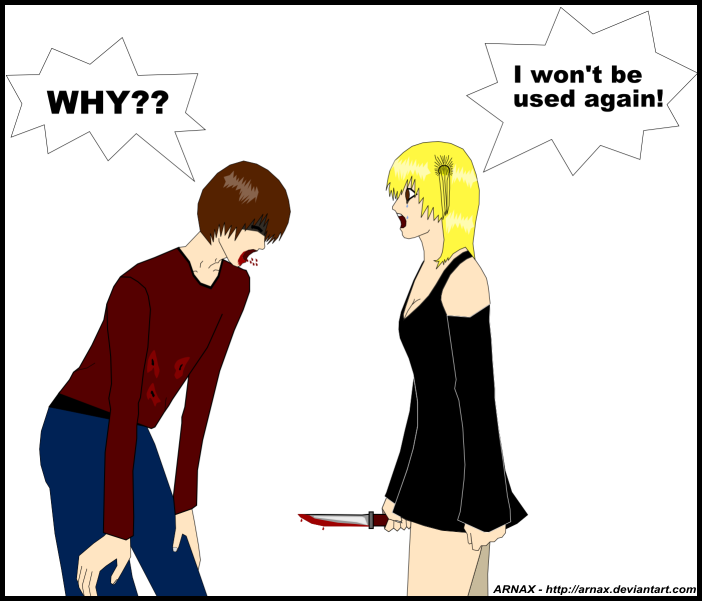 Watch
I've done a little editing on the hair and some nodes.
From the Japanese manga series written by Tsugumi Ohba and illustrated by Takeshi Obata.
Misa got tired of beign used by Raito so she kills him.
Raito Yagami/Kira (aka Light Yagami)

Both the protagonist and antagonist of Death Note, highly rare in manga storytelling. An intelligent young man who picked up the Death Note dropped in the human world by Ryuk, a Shinigami (death god, literal translation). He decides to use the Death Note to kill all criminals, with the ultimate goal of cleansing the world of evil and creating a utopia.
After several incidents, his goal changes from creating a utopia to creating the world in his image and bending the world to his will. As he now possesses the power of death over both human and Shinigami, he is on his way to becoming more powerful than god.

Misa Amane

A young girl who has an immense crush on Kira. She is a famous model, and tends to wear clothing in Gothic Lolita style. She is immature and has a tendency to refer to herself in the third person in an attempt to be cute.
Misa's parents were killed on the street, the criminal - due to the lack of evidence - was released. When she heard of Kira,
a person who kills criminals that police and officials cannot arrest (and those they already have but have not tried/sentenced), she felt the need to be with him to join him on his crusade against criminals.
Misa is in "love" with Light. She has said on occasion that she loved him "at first sight". Light, unfortunately, has never
demonstrated any interest in Misa and her feelings are unreciprocated.

Plot outline

Light Yagami is the top high school student of Japan who has until recently led a boring and uneventful life. That changed
very quickly when he found a mysterious notebook with the title "Death Note" on it, lying on the ground one day in the year
2003. Although initially skeptical, after realizing that the "Death Note" is a Shinigami's tool with the power to kill anyone
whose name is written on its pages, Light decided to use it to "cleanse" the world of evil.
Soon the many unexplainable deaths of reported criminals was noticed, and Light becomes hunted by the Japanese police force and a mysterious detective known as "L". L quickly discovers that the murderer, that they decide to name "Kira", is located in Japan, and that he can kill just by knowing someone's face and name. Light realizes that L is just as cunning, if not more intelligent than himself, and begins a cat and mouse chase with L to see who will be the first to have their identities exposed.

(in
Death Note on Wikipedia
)

Facts:
Not much work on this one. I got the idea from ~
K-Kaito
so, blame her...

Submitted as a PNG image because of some transparencies.

Inkscape:

1 layer;

119 objects (2 are text);

1080 nodes.

The Gimp:

4 layers.