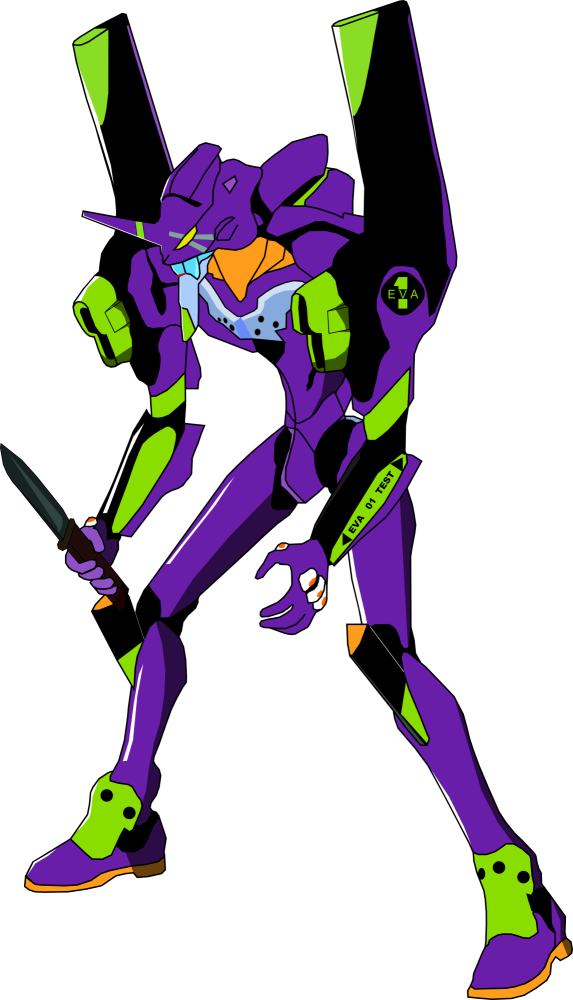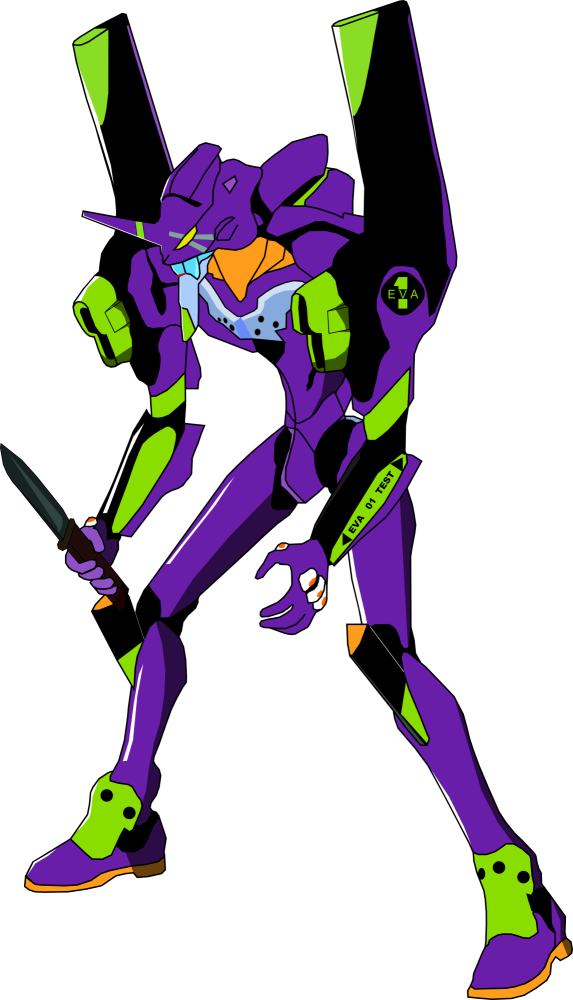 Watch
From the anime series Neon Genesis Evangelion, the Evangelion Unit 01 (Shogouki).
Pilot: Shinji Ikari (with Rei Ayanami or a Rei Dummy Plug as backup pilots).

"Unit 01 is called the "Test Type," perhaps because of the experimental way in which it was created: although Unit 01 seems to be an Adam-derived cybernetic organism like all other Evangelions, it is the sole Eva to have been born from Lilith. Upon savagely disfiguring the fourteenth angel, Zeruel, it proceeded to devour the Angel and assimilated its S² Engine, making Unit 01 the first physically complete Evangelion.

The S² Engine seems to be used only at the Eva unit's discretion; after acquiring it, the Eva is still sent into battle with an umbilical cable. Just before Unit 01 absorbed the S² Engine, it regenerated its severed left arm, demonstrating the Angelic ability of regeneration. The Mass Production models were also equipped with the S² Engine but it is a common misconception that they also have the ability to regenerate.

Unit 01's armor is primarily purple and some components are colored neon green, light blue, orange, and black; it is supposedly different from the plating used on other Units as it is capable of sustaining a considerably higher amount of damage (as repeatedly shown throughout the series, it can withstand a point-blank "cross-flare" beam as well as the force of a self-destructing Angel), stressing the overall importance of the EVA. The helmet, with its prominent horn and "frill," is vaguely evocative of a ceratopsid dinosaur. The pectoral plates are unlike those on any other Eva. The humanoid entity beneath the armor has dark brown skin, two emerald-green eyes, four small nostrils positioned preorbitally, and red blood."

(in
Evangelion (mecha) on Wikipedia
)

Facts:
A bunch of hours of work on this one. I started detailing the picture, but then i got stuck on it's right had, but then a friend of mine reminded me of the progressive knife and htere it is.
There are some nodes that need some work, but they're hidden.
I decided to post it as a PNG image to put some transparency on it.

Inkscape:

1 layer;

184 objects (2 are text);

2826 nodes.

The Gimp:

2 layers.

Reply

Looks great! I like purple... it's a happy color

The knife was a good idea, so you can hide the troublesome hand

Ans somehow... it reminds me of one of my classmates oO;
Reply

you have EVA classmates?

I have painted it with another color too. I was thinking of putting "an army" of EVA's 01 in a frame with different colors in each

Reply

.
.
.

No I don't have EVA classmates... it just reminded me of someone (you know, the monstruosity and stuff... xD; )
Reply

lindooooooooooooooo
a minha knaifaaa XDDD
lindooooooooooooooo






Reply