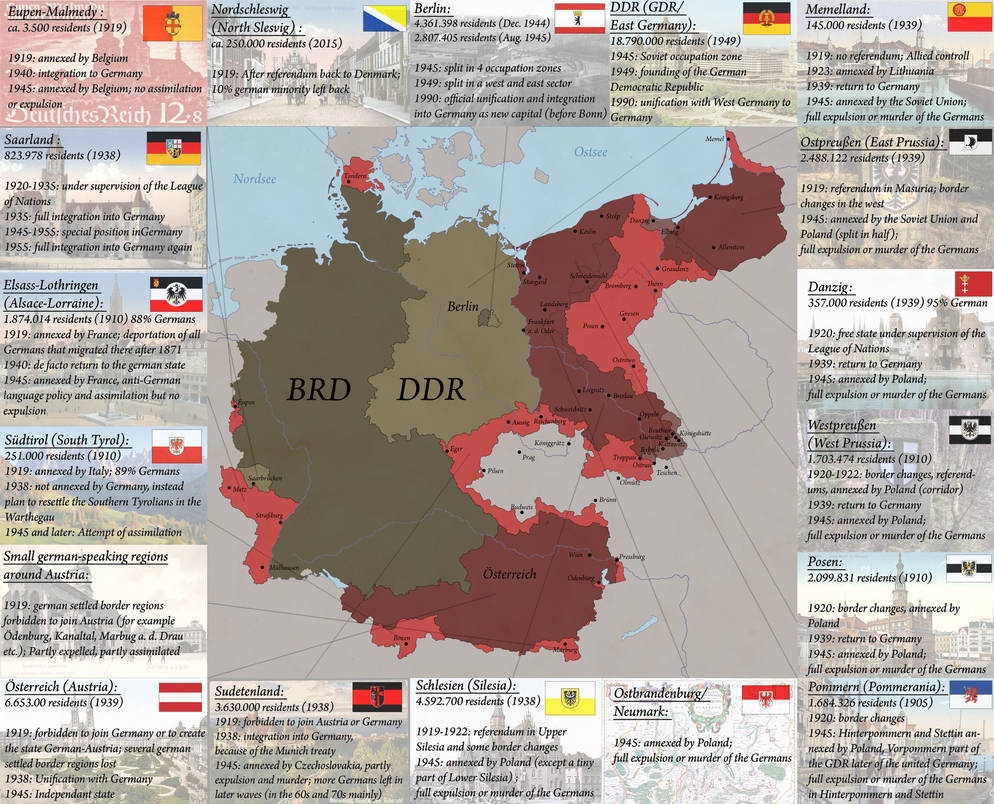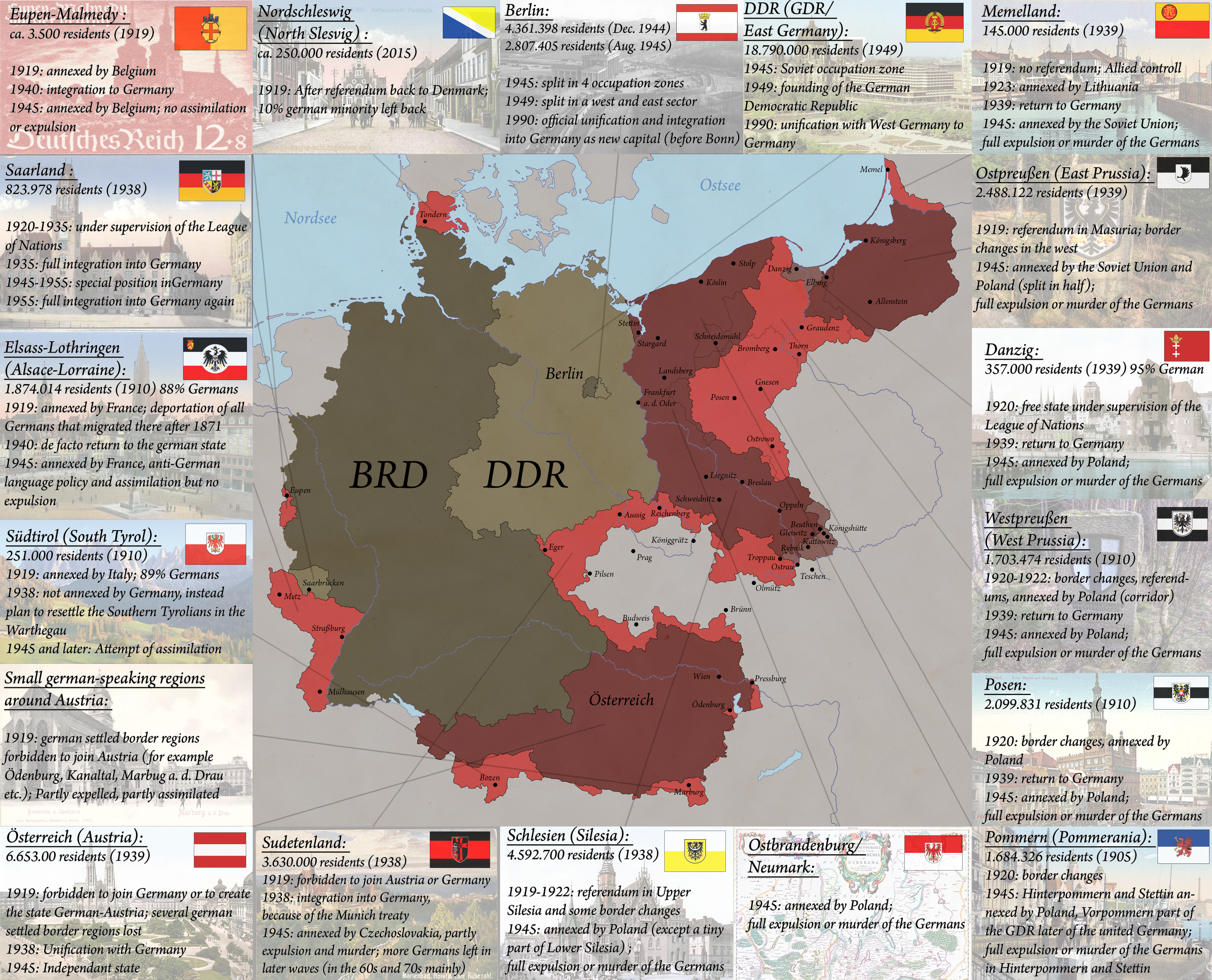 Watch
Newer version of this old bad one:
www.deviantart.com/art/The-mut…
______________________________
Notice: This map was not created to offend anyone, but to educate and show historical facts,
constructive criticism is always welcome, hate-comments not. If you find a mistake, let me know
it in the comments.
______________________________
This is a map showing the territories that Germany, and german-speaking territories that Austria lost,
between 1919 and today.
You can see a short region information in the boxes around the map in the center,
I´ll just list up the regions here. Btw. Not all regions were 100% settled with Germans
obviously (like Posen, West Prussia, the region around Metz etc.), but I showed
the political borders mostly.
I also wanna clearly mention, that the expulsion in the east was mainly the fault of
Stalin and Soviet Russia, and for example the Poles themselves were expelled by them
from their eastern territories. Only partly local forces helped the Russians, but usually
not mainly.
Another fact is, that some Germans were left in the east, and moved out later
(60s, 70s or around 1990), mostly in the Sudetenland or southeastern Europe and Silesia.
Memelland
Ostpreußen (East Prussia)
Danzig
Westpreußen (West Prussia)
Posen
Pommern (Pommerania)
Ostbrandenburg/ Neumark
Schlesien (Silesia)
Sudetenland
Österreich (Austria)
Kleine österreichische Gebietsverluste (smaller german-speaking regions around Austria)
Südtirol (South Tyrol)
Elsass-Lothringen (Alsace-Lorraine)
Saarland
Eupen-Malmedy
Nordschleswig (North Slesvig)
Berlin
DDR (GDR/ East Germany)
________________________________
Not included are all the settlement areas/ language islands of the Germans spread
all over Europe, just the political regions and the ones German-Austria didn´t get
and bordered it. Germans lived everywhere in the east even at the Wolga River
in Russia or at the Caucasus mountains.
________________________________
For more information, check:
Treaty of Versailles:
en.wikipedia.org/wiki/Treaty_o…
Potsdam conference:
en.wikipedia.org/wiki/Potsdam_…
Yalta conference:
en.wikipedia.org/wiki/Yalta_Co…
Expulsion of the Germans:
en.wikipedia.org/wiki/Flight_a…
________________________________
Special thanks to

for help with the references (I was allowed to use some of his
maps to get accurate borders, but ofc everything was completely made new by me), support
and information, thanks so much :3