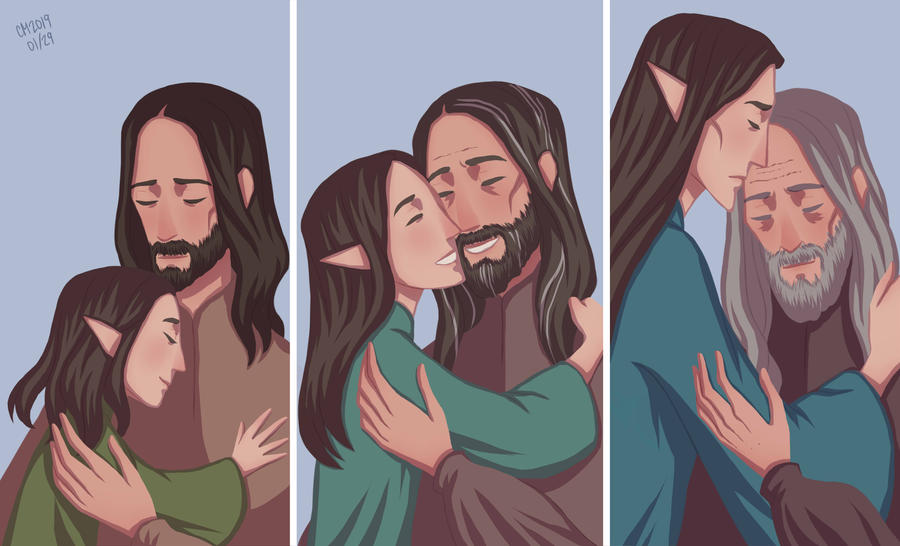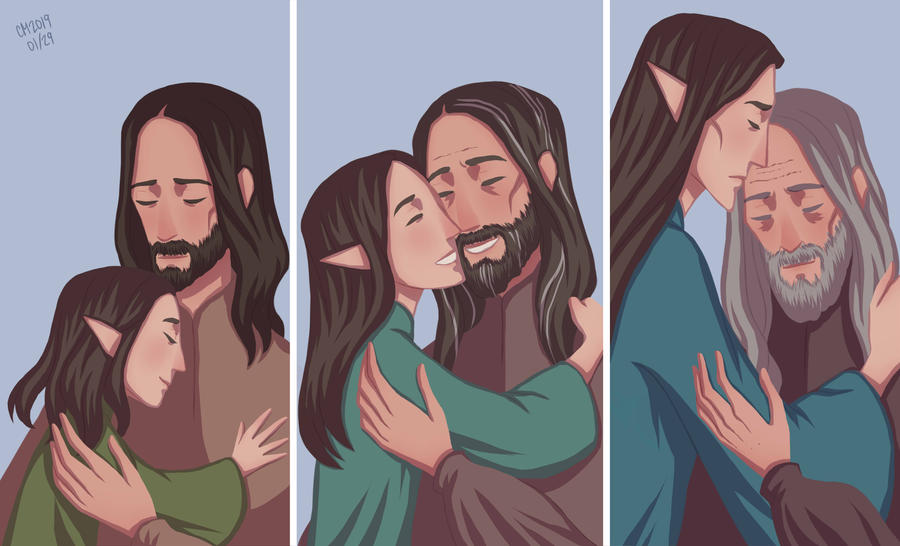 A three-stage drawing of Beren and his son Dior! This was drawn as thanks to
Nelyasun
for helping me with a favour, so I added in some of their requests (Dior's hair colour and green robe) into the drawing; but as Dior gets older, I figured he would go for some blue colours, as though to hearken to his heritage on his mother's side (since he is named Thingol's Heir, so he would wear some blue like L
ú
thien XD).
You can also find me on:
Instagram
Youtube

oh no! this was so sweet and then it broke my heart!!

I like how they have this small smile in the beginning, and then a full smile and then only Beren smiles…

Well, he did have his mum and dad for a short time but it was a good time without war or court duties, just the tree of them, so there's that.
\( ̄▽ ̄)
Reply

Thank you so much!

That's true, Dior did live peacefully with his parents for a time, which is good XDD Everybody in the Silmarillion needs some peace, except for the bad guys hahaha
Reply

This is making me reconsider Dior as a character- I never was actually interested in him- but this is just too sweet!
Reply

Aww thank you! Not a lot of details are given into his backstory in the book, so it was interesting to explore that by drawing this XDD
Reply

I love the picture ...

It's weird, because, according to Tolkien, the three elf princesses who married mortal heroes didn't actually age. They're mortal, but they still don't age, they just die when their partner does ... or soon after.
Reply

Thank you so much!
Well, as far as I know, Idril was a full Elf, so she would have stayed the way she was (and then she sailed with Tuor to Valinor). Luthien and Arwen on the other hand became mortal, but I haven't seen any sources that say they literally aged like humans. Is there somewhere online where I can find Tolkien's words on the matter??
Reply

From what I know from "A History of Middle Earth" volumes elves don't visibly age, even when mortal, but they have a limited fire of spirit that dwindles when connected to a human. So while Beren and Aragorn would age normally, Luthien and Arwen wouldn't change outwardly, they'd still be young and beautiful even when their husbands are old men, it's all about their souls, so to speak.

Anyway, I do love the art and the concept, it's really beautiful.

but I think Dior was also mortal, as was Elwing, till they were given the choice.
Reply

I love this. So much. Poor Díor! That scene where he receives Lúthien's Silmaril, signifying that his parents have died, and then puts it on his own forehead. What a way to come of age.
Reply

Thank you!

I agree; it must have been hard on him since he wasn't there to say goodbye, and now he only has the jewel to remember them by.
It may have been an obsession with the Silmaril that led him to refuse the Feanorians, or perhaps it was because of the emotion associated with it, now that I think about it ... (or perhaps it was both XD)
Reply

This is so touching and beautiful! Truly captures how beauty and grief are intertwined and inseperable from one another in Tolkien's works! I have loved several of your other, Silmarillion-related works, and have to say that you seem to have a very personal relationship with the book. It is obvious you love it and spend so much time thinking about it in depths, that you are able to create such original art, like this one, depicting intimately the personal journeys of much beloved characters, rediscovering for us the sometimes overlooked aspects of it. How I've never ever thought before about the grief of Dior! Thank you for this experience.
Reply

Thank you so much for your kind words! It really means a lot to me

I do love the book and think about it quite a bit! I've taken to drawing more of the characters' interactions/relationships than the major events that took place in the book (though I may draw some of those, too XD), especially since those scenes have been depicted by many artists already. I'm glad you were able to have a good experience with my art, and I hope you enjoy the ones to come!

Reply

Sorry, I didn't see you've answered! I really love your style, and especially the themes you choose and the way you depict the scenes. Good to have you in the Tolkien community!! Really good that you are looking for to create new content, although feel free to create whatever you like and rest assured, we will love it!

I am looking forward to see more of your art. Have a nice day!
Reply

Haha no worries! I'm happy to have found the Tolkien community so that I can meet wonderful people like you

Thank you so much for your kind words!
Reply

aww this is gorgeous and also sad
Reply

Thank you so much! I was hoping for a bit of sadness in the drawing (especially with Beren getting old), so I'm glad it came across! XD
Reply

*SLAMS FAVORITE BUTTON*
EXCUSE MY OVER ENTHUSIASM BUT THERE IS NOT ENOUGH FANART OF THESE TWO AND THIS IS BEAUTIFUL!!
Reply

Reply