Another drawing from last year making its way on to Deviant art. I had a couple of "interesting" folks in my DM insisting that I was wrong about being critical of the tank, that I was being too harsh for it, not understanding its practicality and all that stuff. I Actually did give a completely honest and fair look at the Panther.
If you're looking for the original description, its here
www.instagram.com/p/B3n4hebhnA…

But to some it up the panther was......alright.

For some odd reason German tanks, especially the late war ones, have this large echo chamber pumping out false hype.

If you want a REAL man's vehicle, The L3/33 is all you need.

The angle chosen for this was a homage to the first panther.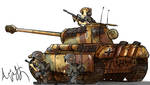 Image details
Image size
1438x850px 1.12 MB