Happy New 2019!
It's been very nice with a few days off work, where I could be lazy and creative.

I hope everyone had a great new years eve.
Sentence is the sister creation of Judgement. The two of them were a menacing plague of their galaxy until Judgement got badly hurt and left by Sentence to die. She continued to follow her programming alone.
Sentence made in Hexagon and MD2. Rendered in Vue
Gate, bench and pathway made in Hexagon. Rendered in Vue
Postwork and composition in Photoshop
Extrasolar is created with my hero



jrmalone


Bonus materia

My idea sketch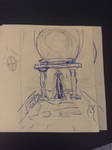 Image size
3572x5000px 9.03 MB
IMAGE DETAILS
Software
Adobe Photoshop CS5.1 Windows