Hello and welcome to our 23rd Week!
This week is hosted by
PixelChallenges
and
dAseniors
!

Don't forget that our Rules here

Important: Make sure you link to our current week's journal in the deviation's description so that we know you've read and understood the rules!
Dates
Start: 30th March
End: 4th April

Winners announcement:
5th April
Theme
Theme of this week:
Easter-related
You can make colored egg, bunny with egg, bear with egg, chickens, etc.
Inspirations
Tutorials for this week: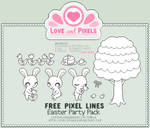 Need more? Check out
TutorialsForYou
,
Pixelcommunity
and
TutorialsClub
to find more tutorials!


Your entries for week
23
can be added
here
or you could send a note to
PixelChallenges
(
Please make sure you also link this challenge article in your note so that we can double check you've read through the rules)
and our Team will add your entry to right folder, thanks.
Prizes:
1st place: 1-month PM
2nd place: 250

3rd place: 100

Honorable mention: 50

and 50

to each winner of this week from
PixelChallenges
!


Judges:

Group News:
Share some love to our participants
here
22nd Week Voting:
Part I
and
Part II
One most-voted entry will get 100

One favorite entry will get 50

from
Candyfied

Hi, I did this about a day ago, but I'm not sure if was added, I'll just post it here

gabriellerock-art.deviantart.c…