Hello and welcome to our 43rd week!
Don't forget about our rules
here
.
Please make sure you also link this challenge article in your note so that we can double check that you have read through the rules.
Dates
Start: 5th October
End:
10th October

Winners announcement:
11th October
Voting until
17th October


Rules
Please read through our rules carefully or your entry may be disqualified.

Your entry must be new and created for this challenge. Pre-existing works won't be accepted.

Your entry must abide by DeviantArt's Terms of Service and Policies

All entries must be drawn in Pixels

One entry per participant

Pixel entry sizes should be 300x300 or smaller.
Important: Make sure you link to our current week's journal in the deviation's description so that we know you've read and understood the rules!
Theme of this week: Celebration!
Party Time! Let's celebrate! So, what do we need? Prizes, champagne, flowers, gifts boxes, fun, smiles, cakes, everything!

We are celebrating our First Anniversary - One year with Pixel Challenges! We are cute but little group with amazing participants! And I'm glad that I can motivate deviants to create Art! Pixel Art

So, as usual, I'm opening the week with a weekly challenge

Inspirations:
Tutorials for this week: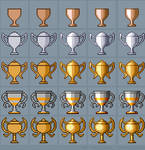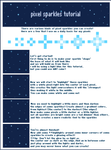 Need more? Check out
TutorialsForYou
,
Pixelcommunity
and
TutorialsClub
to find more tutorials!
Your entries for week
43
can be added
here
or send a note to
PixelChallenges
and our Team will add your entry to right folder, thanks.
Prizes!
One most voted entry:
:bademoticon: Cake Badge
1st place: 1-month PM
2nd place: 250

3rd place: 100

Honorable mention: 50

and 50

to each winner of this week from
PixelChallenges
!
Judges:

:bademoticon: Group News:
Check out our ongoing monthly contest here!
Check our last Donors feature here:
Good Souls feature (August)
Share some love to our past week participants
here

Just joined this group, so to enter we just submit our entry and post it here? Super excited to be part of this group!!! <33