Anime And Manga
Hello and welcome to Pixel Challenge! This is third Pixel Challenge with projecteducate and first Manga&Anime related! Also this is week 12 in PixelChallenges!

Info about week11 is here: Pixel Challenge Week 11
/
Pixel Challenge week 11 winners
Please share some love to our past week participants: here.
Dates:
The contest starts on
December 29th
and goes through
January 3rd
.
Winners will be announced on January 4th.


Rules:

Your entry must be new and created for this challenge. Pre-existing works won't be accepted.

Your entry must abide by DeviantArt's Terms of Service and Policies

All entries must be drawn in Pixels

One entry per participant

Pixel entry sizes should be 300x300 or smaller.

We also accept Fan Art!


If you'll make another deviant's OC/EC (Original/emoticon character) you HAVE TO link to original OC and creator!


Important:
Link to this contest so that we know you've read and understood the rules!
Theme:
Theme of this week -
Chibis
! You need to make a Pixel Chibi, it can be your Original character, it can be others OC, it can be Fan Art, it can be chibi from Anime, Manga, Film, Cartoon. Extra details (scene, sparkles, clouds, animation, etc.) are appreciated!
Examples:
Tutorials:





<da:thumb id="349074543"/>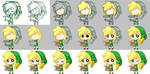 Also you can visit
TutorialsForYou
,
Pixelcommunity
and
TutorialsClub
and find more tutorials.
Prizes:
1st place:
3 months PM + 200

from
PixelChallenges
2nd place:
1 month PM + 100

from
PixelChallenges
3rd place:
300

+ 75

from
PixelChallenges
Honorable mention:
150

+ 50

from
PixelChallenges
Judges:

So what are you waiting for? Go and create!