Halloween (or Hallowe'en) is an annual holiday observed on October 31, which commonly includes activities such as trick-or-treating, attendingcostume parties, carving jack-o'-lanterns, bonfires, apple bobbing, visiting haunted attractions, playing pranks, telling scary stories, and watching horror films.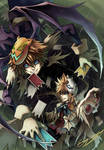 The word Halloween is first attested in the 16th century and represents a Scottish variant of the fuller All-Hallows-Even ("evening"), that is, the night before All Hallows Day. Although the phrase All Hallows is found in Old English (ealra hālgena mæssedæg, mass-day of all saints), All-Hallows-Evenis itself not attested until 1556.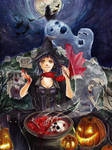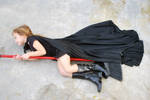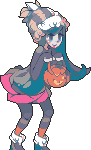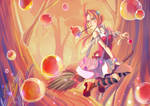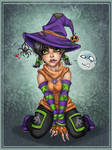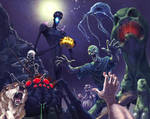 Trick-or-treating is a customary celebration for children on Halloween. Children go in costume from house to house, asking for treats such as candy or sometimes money, with the question, "Trick or treat?" The word "trick" refers to a (mostly idle) "threat" to perform mischief on the homeowners or their property if no treat is given. In some parts of Scotland children still go guising. In this custom the child performs some sort of trick, i.e. sings a song or tells a ghost story, to earn their treats.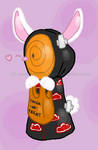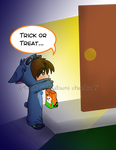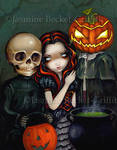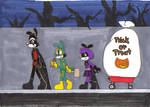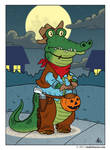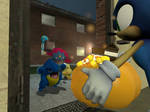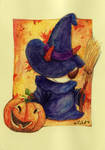 :thumb100854814: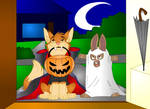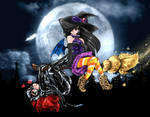 American historian and author Ruth Edna Kelley of Massachusetts wrote the first book length history of the holiday in the U.S; The Book of Hallowe'en (1919), and references souling in the chapter "Hallowe'en in America"
Halloween costumes are traditionally modeled after supernatural figures such as monsters, ghosts, skeletons, witches, and devils. Over time, the costume selection extended to include popular characters from fiction, celebrities, and generic archetypes such as ninjas and princesses.
Dressing up in costumes and going "guising" was prevalent in Scotland at Halloween by the late 19th century.
Costuming became popular for Halloween parties in the US in the early 20th century, as often for adults as for children. The first mass-produced Halloween costumes appeared in stores in the 1930s when trick-or-treating was becoming popular in the United States.
Halloween costume parties generally fall on, or around, 31 October, often falling on the Friday or Saturday prior to Halloween.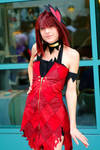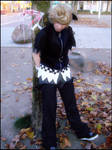 "Trick-or-Treat for UNICEF" has become a common sight during Halloween in North America. Started as a local event in a Northeast Philadelphianeighborhood in 1950 and expanded nationally in 1952, the program involves the distribution of small boxes by schools (or in modern times, corporate sponsors like Hallmark, at their licensed stores) to trick-or-treaters, in which they can solicit small-change donations from the houses they visit. It is estimated that children have collected more than $118 million for UNICEF since its inception.
:thumb259741093: :thumb66285291:
Foods
:thumb24403207: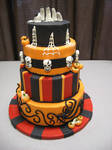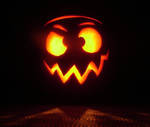 :thumb102264901: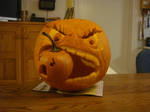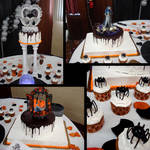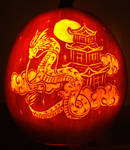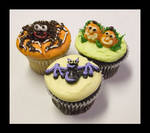 Scary Stories

:thumb42575425:
HalloweenAn enchanted autumn night,
twilight approaches
in the starry sky.
From the darkness,
Ghosts and phantoms,
gliding silently along the sidewalk.
Witches and wizards,
riding old wooden brooms.
In the midst of the darkness,
Princesses and princes,
holding hands together.
Fairies and elves,
spreading mirth on this magical night.
They ask of
not wealth and power,
not hospitality and shelter,
but only an offering of
sweet delights.
HalloweenThere is a tale
Of a day from the past
Dancing witches, howling wolves
Stories told by fire demons, and candy passed around
Figures lurking in the shadows
Ghosts sift within the mist
The dark clouds rise
Covering a blood red moon
Fangs that drive into the neck of innocence
So children beware there's monsters about
If your not careful
You'll end up like them
Believed to be a myth
Stealing souls of the naive
On this the night O' Hallows Eve.
Halloween horrors"Come, come, my dearies
come to get my sweets
come, come, my dearies
to become
what you pretend to be!"
A witch stood next to the table, whispering the spell over and over, as she grabbed a vial. The purple liquid glows out, as she grins. Looking over the table, and grabbing the bowl of sweets. She opens the vial, and turns it, but rather than a liquid fall on it, the liquid changes to a gas, and slowly settles on it. "Come, come, my dearies," she whispers, as her doorbell rang in the silent house. "Guess it's time," she says, grabbing the bowl, and walking to the door.
Three people stood there, teens as they were, grinning, and holding toilet paper. "Trick or treat?" The three ask. The witch grins, "Ah, but my darlings, I choose treat, so no tricks tonight?" She offers the bowl, and the three grab some candy. "Thanks!" They shout, walking off.
"Why is it always treat?" A boy, dressed as a cheerleader said. "Maybe because they don't want you to scare children tomorrow?" A french maid t
Halloween Costume TF The door flung wide open as a young man stumbled into his home from the bulk of a briefcase and a package box. He was of a medium build and had a crew cut of black hair, and his dark grey suit went well with his green eyes. He set his briefcase down and hung up his suit coat, then carried the package into the living room.
He had to stop and take a breath, he knew what was in the package, and he was very excited. He set the package down on the sofa and hit the play button on the telephone answering machine on the end table, and it stated, "Three new messages." The first of the messages began playing as he pulled out his pocketknife and began cutting the packaging tape on the box.
"First message," the machine began. "Hey Benji! It's Allyn! I was wonderin' if you wanna go bowling sometime t
AmericaXReader HALLOWEENSitting on the porch in front of your house, you were handing out candy to the children trick-or-treating on a glorious Halloween night.
"Here you go," you said, putting a couple mini candy bars into the pail of a little girl dressed as a witch.
"Thank you!" she said happily. "Happy Halloween!"
"Happy Halloween too you too."
Things got a little slow after a while, and as you were eating one of the Three Musketeers mini bars in the candy bowl you heard a loud, familiar laughter. Looking down the sidewalk, you saw your best friend and crush Alfred Jones, dressed in a Captain America costume, running down the street with his brother whose name always slipped your mind following and clutching his pet bear in his arms.
"C'mon Mattie, you're way too slow!" he yelled out jubilantly.
"I'm not slow," he said, adjusting his Mountie hat with his free hand. "Maple…Wait up, Alfred!"
"It'll be dawn by the time we get there if I wait for you, slowpoke! I wanna make sure we have enough time to wa
Funny Wallpapers
:thumb42298668: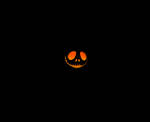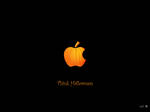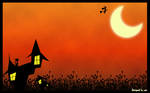 Films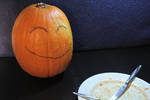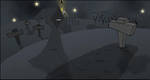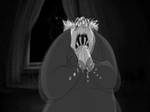 Fractals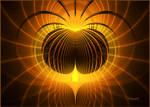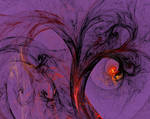 :thumb99929440:
Groups Supporting Halloween:



:iconpremiummembers:


Chat Event!
Today

Here

PLEASE check our chatroom!! Information in group!

Happy Halloween!
Arichy