The following Issue 4 takes a moment to look at Vinnie Edenton (Patrick's partner)'s backstory, which continues until Issue 6. If you would like to skip ahead to the following Issues, please visit the following gallery links.
Issue 7 (which details Funday/Svenn, LeBrand/Milon's criminal pasts prior to Issue 2), please go here:
aaronsartstuff.deviantart.com/…
Issue 8 and 9 (continues where Issue 3 left off), please go here:
aaronsartstuff.deviantart.com/…
and
aaronsartstuff.deviantart.com/…
Otherwise, if you are interested in reading this adventure, please continue reading page 4.

is assisting me in converting them to PDF to include in future purchases for the reader on the go, and I am editing them in Photoshop to keep continuity current.
Upon all of the updates (13 of which have been completed so far), they will all be uploaded onto Comic-Fury. DrunkDuck will not receive updates.
===
Characters, Artwork, KUWT and Story (c) Aaron Mocksing, all rights reserved; 2010-2014
Please vote for my webcomic if you like what you see! :3 (details here:
www.thewebcomiclist.com/p/2331…
)
aaronmocksing.tumblr.com/
- my Tumblr
keepingupwiththursday.jigsy.co…
- my site
www.etsy.com/listing/194725692…
(MLP and KUWT NOW FOR SALE!)
www.etsy.com/listing/194727650…
- (MLP and KUWT NOW FOR SALE!)
payhip.com/b/1PwT
,
payhip.com/b/LA7J
-
payhip.com/b/hN6I
(KUWT is now on Payhip!)
keepingupwiththursday.thecomic…
- Comic-Fury
www.patreon.com/aaronmocksing
- Patreon (make a donation!)
www.facebook.com/pages/Keeping…
- KUWT on Facebook!
Image details
Image size
800x1000px 963.59 KB

The redesign looks the same as the original, but I noticed some tiny changes between them, honestly.

Amazing pics. I like the look of Patrick in the second pic with the top-left box looking upward.


Thank you! :3 I even did a zombified version of that one X3 I was on a Marvel Zombies kick at the time.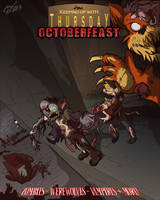 I like to see a Shawn of the Dead tribute in the future with Patrick playing the title character and Vinnie playing Nick Frost's character and Bev as Liz. But I don't know who would play David.


Thank you. :3

The next one will be werewolves. x3 I'll try and look up some old pages or things I've drawn and make it like a poster or something. :3