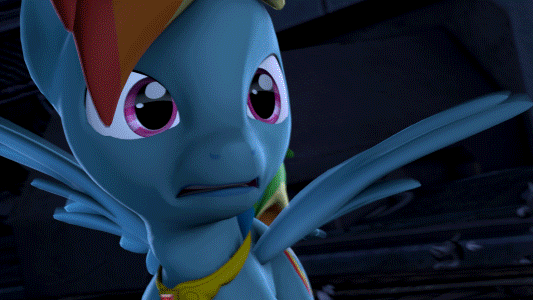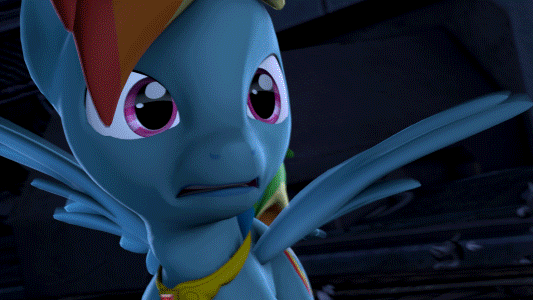 Watch
This is a GIF taken from my Austraeoh video.

About this shot:
This was the first fight scene I made for the video. It went through many changes over months as I learned more and more. I was really happy with how the impacts felt. They had a nice umphf to them. Trying to animate while moving back and forth between fast and slow motion was definitely the hardest part.
Watch the video here:
YouTube
Read the fic here:
FimFiction
More GIFs from the video can be found here:
DeviantArt

Reply

Either those swords are foam, or Starlight has enchanted her wings. No standard pegasus feather would stand against a blade.

Well, it could've also been Twilight, or Celestia.... Or Rainbow Dash is currently dreaming.

Yes, I know the sharp end isn't hitting her wings in the scene, but it's still something to think about since you can't guarantee that she will always hit the dull part of the blade.
Reply

Reply

I watched your video and I really like that part.
Reply

The amount of work put into this is amazing and it's like 5 seconds long.
Reply

This is how I imagined Rainbow and Shell's fight (one of many anyway)
Reply

Dang Argo you really bring the epicness of that series to life
Reply

Reply

That's so awesome

Reply

How much of the video is depicting scenes from the actual story? I've long held a slight distaste for the story because of my initial impression of the first in the series feeling more like a poem than a story, but if what you animated is part of the story then it might actually become interesting for me to read.
Reply

Nearly all represent someplace or general premise of the story. About half is an actual situation of the story animated. There was a lot left out to prevent spoilers as well.
Reply

Woah... that is bloody amazing! I am curious about one thing (I haven't read the story yet, will do that ASAP) - how is she parrying a blade with her wings?
Reply