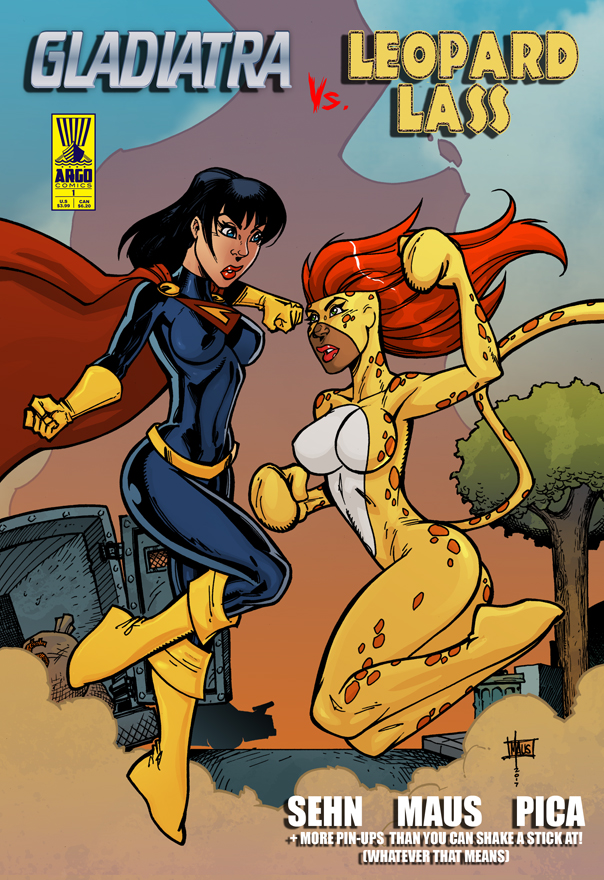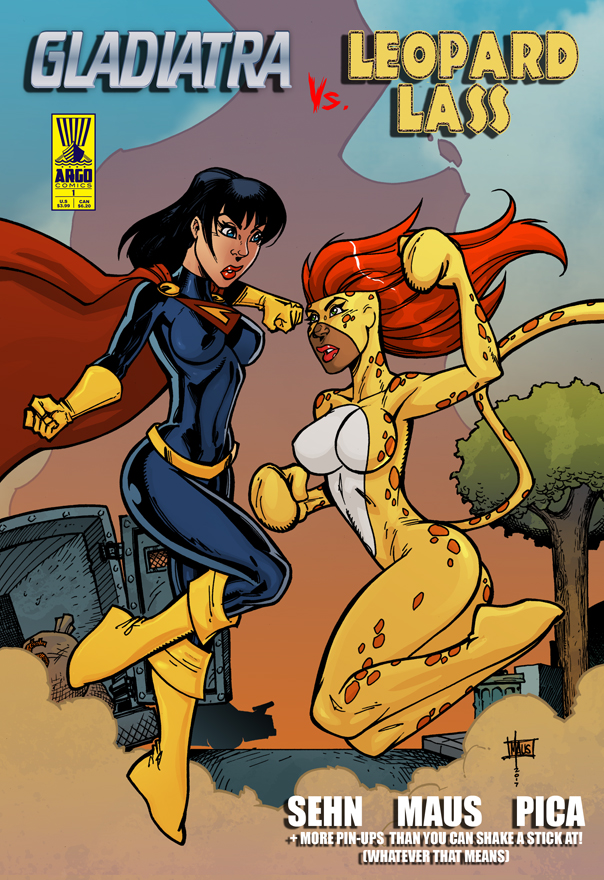 Watch
Gladiatra Vs. Leopard Lass available in print and digitally at:
www.indyplanet.us/product/1468…
We are running a neat little contest with this release so head over to the Argo Comics Facebook page to join the fun:
www.facebook.com/Argo-Comics-2…
Argo 5's Gladiatra and Sorority of Power's Leopard Lass mix it up due to a mix-up! This short story preludes a pin-up section featuring a host of comic industry superstars as well as a number of hot newcomers. Story by Dan Sehn, Art by Bill Maus and colors by Giuseppe Pica, Amazing Pin-Ups by Louis Small Jr. Franchesco!, Jonboy Meyers, Paul Renaud, Gus Vasquez, Dan Richards, Carlo Barberi, Kevin Taylor, rey Arzeno, Kirk Lindo, Kasim Earl and much much more! Featuring 4 covers: "Ready To Rumble Edition" by Bill Maus, "Gladiatra edition" by Matthew Clark, "Leopard Lass Edition" by Elizabeth Torque and the "Buns of Steel Variant" by Rob Banbury!

I always wanted to ask something: how come Leopard Lass has Mitten-Gloves instead of Finger-Gloves? Is it a design element to distinguish her from other cat and animal-theme heroes and villains?
Reply

Yeah, partially. They all have claws. She has very light boxing gloves and sort of bounces around them jabbing. More Tigger than Tiger, lol.
Reply

Looks like you've got your own Dawn of Justice-thing in Argo Universe! /But yours seems more awesome!
Reply

Hadn't made that connection but your right on! A very powerful strong flying hero versus cat rather than bat

Reply

i haven't read any of these....hope to one day... but i remember coloring these 2 characters and they are my 2 faves.
Reply

Yeah, DD! Your colors blazed the trail for these two. They have been faves of many and myself included which prompted me to use many of the great pin-ups I had of these two characters in this book. It's a short story followed by a LOT of pin-ups by some super-talented artists.
Reply