Okay so I've decided I am going to redo some old pieces from 10/11/12 years ago that are a bit rubbish even if I like something about their concept. 3 pieces I have picked out, all Tekken pieces are these: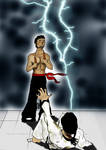 Marshall Law Vs Baek Doo San, with Marshall standing over Baek. I always liked the concept of this one but artistically it was very dodgy. And due to a suggestion made by

I'll change their outfits to Marshall's cook suit and Baek's business suit for the purpose of the redraw.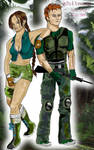 Hwoarang and Julia in their combat /camo gear. I just liked this combo however the poses are a bit awkward and the background is cheap.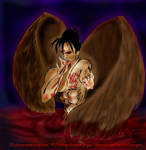 This one mainly because it's possibly the first piece I uploaded to DA, but very scrappy looking. I think redoing it would be a good idea.
Anyway I hope to have these pieces come together sometime soon and hope they work out well...