I'm normally not one for New Year's Resolutions, as I'd rather tend to what needs worked on in the moment than tack on an arbitrary date. That said, after cleaning my studio last winter, I was overwhelmed with the sheer amount of STUFF that I had somehow accumulated and often had no recollection of owning. The same was true for the rest of the house. The bathroom had become a breeding ground for travel toothpaste tubes, floss, and soap samples; the pantry and freezer are a perpetual organization battle thanks to my day job offering free food; and both of our closets (old Victorian with
tiny
closets, so Nicholas' is in his office) needed a good sort to separate worn out items from usable ones. Thus, I decided that it was time to live by the saying "Use it up, wear it out, make it do, or do without"--"Make Do & Mend," in short.
"Make Do" proved a timely mantra. It was enacted before we discovered the snafu in our insurance policy that meant WAY more than expected would be out of pocket this year, but it certainly helped make up the difference! (I also cut $40/month off our phone bill by gutting our data. Our use had gone down considerably on its own, to where we always had ample rollover. Wish I'd found that sooner, but hey, at least I found it in February during the great "Must find money" bill revue! We also killed Netflix, as we honestly hadn't watched it in months. Public Service Announcement: Audit your bills now and again, kids!).
Household-wise, we've conquered all the travel toothpastes and floss, nearly all the soap, and there is hope yet for the pantry. We turned old clothes into rags to augment our kitchen wash clothes and save on paper towels (barring something gross and/or cat-related that should only touched once), and I've made a point of mending small holes and loose seams as I find them vs. letting the pile build up. We made rags, wash clothes, and mended before, but now it's far more streamlined.
Studio-wise, you've all witnessed a great many paintings that were owed to my coming across this or that random supply or or surface. A sheet of papyrus that I've had for not quite two decades (I discovered Amazon, then discovered that you could order papyrus, and I begged to) is down to a 1/4 of its original generous size; two orphaned gesso boards have become a fox and an octopus, respectively; a forgotten wooden plaque became home to a fox; and partially-finished canvases from who knows when either saw completion or rebirth as something new. I purchased my first new canvases of the year in November, and only a handful of brushes and convention print supplies in between. Indeed, many of my "Make Do" paintings made use of the warm colors I seldom turn to, so now I finally have pieces to go with the equally warm mat colors that have been accumulating all this time!
Some of this year's "Make Do & Mend" super stars:
"A Fox Named Fable," acrylic on wood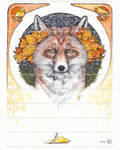 "The Autumn King," acrylic on gesso board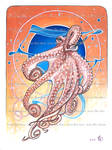 "WaterCOLOR Nouveau," acrylic on gesso board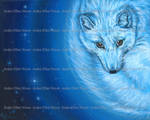 "When the Moon Comes Down," acrylic on (repurposed) canvas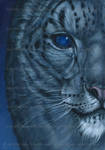 "The Seer," acrylic on 5 x 7" canvas board, because I had A LOT of them! This is but one of many, including "Reliquary," which itself was painted to go with a gorgeous mirrored second-hand frame.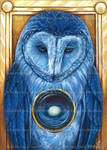 You get the idea!
My new studio resolution will be a very specific rendition of "Make Do & Mend." I've been treating my acrylics like watercolor for things like the "Pride" series, when I have a handsome collection of good ($$$) watercolors that I've not used an an embarrassingly long time. Watercolor by its nature doesn't go bad, so they're not only usable, but a little goes a long way. There are years of potential paintings in those tubes!
I love watercolor, but I'm also an impatient painter, which doesn't bode well for the long drying time. One also has to be more mindful, as there's no undoing a mistake. Indeed, watercolor requires one to be a better artist, on the whole! Thus, my studio resolution for 2019 will be to complete at least one watercolor painting a month, of any size. If my muse is moved to do more, great, but I feel one a month a reasonable goal, especially with my acrylics being my go-to. I'll have to get new watercolor paper, as I've gone through my stash for various other projects (see above!), but this is a challenge I very much look forward to.

See more posts like this one and watch paintings take shape over at my Patreon! www.patreon.com/ardenellennixo…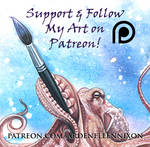 Thank you, THANK YOU, for supporting my art, whether it's via Patreon, favorites here on DA, word-of-mouth, or purchases. I appreciate it and all of you more than words can say.