An Interview with-
> Please introduce yourself, in your own words. What are your interests?
Hello. My name is Wojtek, I am 34, I live in a Parisian suburb, and I've been working as a software engineer for about 10 years. I would say that I am a "curious about everything" type of guy, always eager to learn and share things. I've got a secret passion for good Belgian beers... but now everybody knows! I also like to play the drums in my free time, although I have to admit photography is taking more and more space in my life.
> Where did you begin with artistic endeavours? How did you come across Abstraction or Surrealism?
I guess art has always been around a little. My older brother is an artist, with a pencil in his hand as far as I can remember. Another close relative is a professional etcher, so we always had many paintings and prints on my parents' walls, and it is still the case at my place. All that must have given me some ideas, but since I have no clue how do draw, I had to find something else!
More recently, I believe that moving to Paris has clearly made my interest towards Art grow. I particularly remember one exhibition which had a great impact: it was an Hokusai art showcase at the Guimet Museum. It's been a revelation to me: it's amazing how simple drawings with a limited colour palette could have such a great evocative impact. All these dream-like and surreal landscapes, those ghosts and dragons, these warriors with their great armours; breathtaking! I really felt that art does not have to be that "complicated" and "elitist" to provide a lot of pleasure. I then started myself a little collection of woodblock prints, silk paintings and Japanese traditional ceramics. I also started to play GO, an amazing game indeed.
I have to admit that I really only came across abstraction and surrealism in photography here, on deviantART, and it has been quite a shock! Of course, I've been well aware of abstract and surreal paintings, but had almost no clue about abstract and surreal photography. Seeing how people play with blurry pictures, textures and simple geometric lines and shapes has been a great eye opener for me. Again, something quite "simple" in form, but that can provide so much impact and pleasure. Exactly what I was looking for as an artist.
> How would you explain the concept of Abstraction or Surrealism to someone with no experience with the genre?
Well, I am still very new to the genre so I'm really no expert, but of course I can share my personal feeling about that. I like to see Abstraction and Surrealism in photography as two opposed approaches.
To me surrealism is about the idea of "extending" the reality. You start with something "real", then "add" things to create a new dimension; a new world, a new layer of meaning. To me it can be as simple as finding a title that gives an unusual perspective to a "common" subject. And of course it can be as complicated as photo-manipulation that creates something that simply could not be captured.
On the other hand, Abstraction is about "subtraction". You start with something "real", then you "remove" some details; through context, through environment, to open up the field of interpretation. A very interesting process since the artist gives "less", and the viewer is compelled to fill what has been removed with their heart and mind to create their own final representation. Abstracting can be as simple as cropping or rotating a picture, and again, it can go all the way to photo-manipulation.
Of course sometimes things are more complicated than that. Some pictures can be abstract
and
surreal at the same time. I guess everyone should build their own definition of the genre!
> What inspires you to use Abstraction or Surrealism in your work?
The first thing I would think about is clearly the range of possibilities. When I started taking pictures, it was mainly cities, landscapes, and nature, but I felt a good deal of frustration about that. It was quite difficult to express something creative and original with those plain subjects. I've been constantly struggling against the "postcard effect", which is a state of beautiful pictures that don't do much to feed the soul. Discovering abstract and surreal photography has been some kind of a liberation. Now I know there is an infinite world of wonders out there to capture, without the need to go all around the world to get it. It is here, right in front of your nose, you just need a little imagination and soul to see it.
Another aspect that drives me to Abstraction is pure aesthetic enjoyment. I love playing with colours, rhythms, lines and shapes just for the sake of it. And again, not being bound to figurative representation gives incredible freedom. Not having to always care about the message is a great relief. Just like a good piece of music, you don't need to understand the lyrics to fully appreciate, and this is what Abstraction is great about.
> What do you want to express with your artwork? What is the idea you're trying to put across?
When I look at my pictures as a collection, it is a great mess! Obviously I am not building something you would call a "well defined personal universe", or at least not consciously so. But I am quite at peace with that because I am still learning a lot, and experimenting a lot. I would even say that I am glad to be still a little naive about all that. Sometimes I see people doing the "same thing" on and on again, I can't help myself feeling that they are kind of trapped in something, a kind of comfortable routine based on self repetition. I know, it may sound harsh, but at least it is an interesting debate to have.
If I really had to find a recurring outline in my work, I guess it would be the pleasure of finding beauty in the most common subject and revealing it through careful composition and editing. It is like some sort of a game with myself. When I am taking pictures, I am sure that people around are often asking themselves: "but what is he taking a picture of? there's nothing out there!". And I would like to demonstrate that actually there's always something out there, you just need to look hard enough with your heart and soul.
> What are your 'tools of the trade'? How do you create your art?
I guess my tools do not play a great part in the pictures I create. Perhaps I am wrong, but at least I don't want them to. For example, I always discard all exif data from my pictures before submitting them. I don't want people to see what camera/lens/shutter speed/aperture/processing software I used. To me it is some kind of a dream killer. I want people to appreciate pictures as they are, and not spending time making links between what they see and the technical details.
Of course, there is no secret between us! I use a Canon 5D, mainly manual fixed focal lenses (Samyang). I never edit my pictures in Photoshop (too lazy for that I guess). I only perform some editing inside Lightroom; that way I can keep a simple and straightforward RAW workflow: import - organize - edit - export. One thing I would like to mention is the importance for me of editing RAW format pictures. I discovered that only 2 years ago, and actually it changed my life. Sometimes I need to go really deep to dig up things, only RAW gives you the possibility to achieve subtle and clean results.
One last aspect of the way I create pictures is that a lot happens
after
I press the button. I spend a great time selecting pictures, and usually it is only at that moment that I realise there is something interesting in a particular composition. I usually see the abstract or surreal potential of a picture quite late in the creation process. It is kind-of fun, always a hidden surprise waiting there for me, I just need to concentrate enough to see it.
> Do you think the quality of a piece depends more upon technical perfection, or the message contained therein?
I believe that technical quality is like some kind of spice that makes a picture sublime: if it is missing, well, the picture is good, but not sublime. But that's my thing, I always like to get very close, enjoy every little detail. And in case there is a total lack of technique, it is clearly a deal breaker. I know, I tend to be a perfection seeker!
> Who are your favourite visual artists, and why?
Among traditional art I would first say Rembrandt and his Dutch peers. The quality of light is just amazing in these paintings, and it is something I appreciate a lot. Elsewhere I enjoy the Hokusai and the ukiyo-e style, and the Shin-hanga movement. I also like Monet a lot, along with Hopper, and Soulages.
> Which dA Groups would you recommend to someone looking to get involved with abstract and surreal art?> What advice would you give to an absolute beginner in the genre?
If you want to learn fast, look at what others do. deviantART is a gold mine for that. And of course any museum of modern art should do the trick. Then, even if the genre is Abstraction or Surrealism, it remains visual art, so any general knowledge should apply: color theory, composition, movement, etc. And of course the most important: experiment, practice, and feel great freedom flowing into you!
> Any final words on abstract and surreal art?
When I was young I thought that nothing could beat a lovely sunset or a ladybug striking a pose on a flower, but I was so wrong, Abstraction wins hands-down... Just kidding around. I love sunsets and flowers, too!
> In conclusion, pick nine works from your Favourites that you particularly enjoy.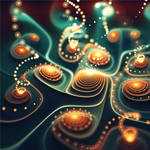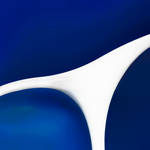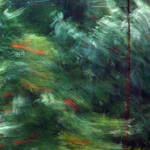 :thumb401075057: