An Interview with-
> Please introduce yourself, in your own words. What are your interests?
I'm a 26-year-old writer and artist trying to find my way in the world. I'm also interested in photography, drama and performance; I think I'd try my hand at anything creative and expressive. Other than that, I love music just like anyone else, and I'm very dedicated to my pet fancy rats.
> Where did you begin with artistic endeavours? How did you come across Abstraction or Surrealism?
Pretty late, compared to others. I had studied Surrealism formally as part of my degree in drama at university and it had resonated deeply with me. The most profoundly I have ever been moved by someone else's work was when I was at secondary school when I read Samuel Beckett's
Waiting for Godot
. It expressed a repetitive mundanity about life in a way I had never experienced, and the play for me really gets at the heart of what is so heart breaking about existence: about having to cope with its overwhelming meaninglessness. My writing has become increasingly abstract over the years, so the abstract and surrealism has been in me from early on. It was only when I went to an art-based social group run by the local branch of the charity
Mind
that I actually started painting. I had always presumed I couldn't do it because I was always rubbish at drawing. I started off painting as I had been taught to (the thing I was rubbish at), of realistic things, and clear defined images and situations. One day I started playing with the paint instead of trying to create something pained and difficult. It was this play, and this joy in the play, that not only started my love affair with painting, but also gave my hands the true opportunity to let out what was really in my head and in my heart, instead of trying to conform to the taught ideal I'd had instilled in me.
> How would you explain the concept of Abstraction or Surrealism to someone with no experience with the genre?
You do what you want, you express yourself free of any rule you've ever heard of. There is no right or wrong. Forget what you know about art, just take up some colours, and make something happen on a page or a canvas or anything. You can use ideas about the real world, or you can not. Let it happen and don't think about it, don't judge yourself, just be. It's about expressing what is beyond the physical world. There is no right way to express a concept, or a memory, or a person; it's about the essence of a thing that cannot be seen or touched. It's about perception and expressing that. Abstract art is how existence feels, not what it immediately looks like.
> What inspires you to use Abstraction or Surrealism in your work?
I think mainly because I subscribe so heavily to the Surrealists' core ideas, about being able to touch and capture a higher truth through spontaneous creation. I practise a lot of automatic writing and everything I paint is automatic painting. I do not think about it, it just happens. For me I am looking for truth: I am looking for my authentic self; I am looking for my authentic feelings, and I am looking for answers to everything. Somehow, that comes out in art, and it even comes out in painting, I think, far more than in writing. Or at least it has the potential to. It is that undefined, wordless something of life and everything - that is what art has the potential to express.
> What do you want to express with your artwork? What is the idea you're trying to put across?
On one level, me, my experience; but then also, I think, the human condition, and living. A lot of my work is about suffering or salvation, and if that is possible. I think when I am alone at night in the near-dark then suffering is the thing that needs to come out of me and be noticed, be given a voice on the blank space. I've found that the more in-touch a piece has been with the core of me, with things most difficult for me to consciously deal with, the more it has resonated with other people, the more feedback I have gotten from people who have found themselves engaged with the rawness of it. It makes me want to go as close to the bone as I can healthily get; in a way, that sort of deep and profound experience is the only thing that matters, whether that is good or bad. All the trivialities of life will be forgotten and what remains are the moments that cut us and heal us the most deeply.
> What are your 'tools of the trade'? How do you create your art?
Anything I can get my hands on. I have a firm belief that no one should be scared of materials or techniques. Everything is accessible to everyone; snobbery is just a way to make certain people feel more important than they actually are. So every time I have seen something I haven't used, or don't know how to use, I get it, then play around with it, so it's just me working out the nature of the medium, rather than reading about how people are supposed to use it. Right now I use acrylic, oil, gouache, gesso, ink, and different solvents to create effects; and wider than that I use glue, newspaper, tissue, pins; pretty much anything.
> Do you think the quality of a piece depends more upon technical perfection, or the message contained therein?
I think it's probably a case of both. I do genuinely believe that if the feeling or message behind something is intense and genuine enough it can transcend any naivety of technique. Technical perfection is a way of dressing a message up so it looks more legitimate! But it doesn't make it so. What I look for is meaning, and something can look visually stunning but ultimately empty and meaningless. I would much rather encounter a piece that was emotionally and cognitively genuine and engaging by a novice to the field, than a piece by an expert that is demonstrating all the clever skills they know but lacks emotional integrity. Artists need to engage with their art for it to be engaging to the viewer. They need to sweat and cry about it. The art retains this struggle and it is that that hits the viewer like a kick in the stomach. This is true of all art forms. It's about engaging with the important essence of life, not pretending to. People can tell the difference from the end result.
> Who are your favourite visual artists, and why?
I'm not big on Establishment or the artists/writers that you're 'supposed' to like. Everything and everyone is equal to me. So I genuinely find that I like more art on deviantART than I do when I walk round exhibitions or encounter established artists. Although these are mostly photography, two people who I always look forward to seeing more from are
deadendsoul
and
M-Tau
- their photography creates an atmosphere I don't have words for but which resonates with me deeply. It seems painfully truthful.
> Which dA Groups would you recommend to someone looking to get involved with abstract and surreal art?
I'm unfortunately unequipped to answer this! Generally speaking I am the creative loner. I get on with my art. But I think it can be creatively rejuvenating to be challenged and inspired by other people's art, especially when they are trying to achieve similar things.

> What advice would you give to an absolute beginner in the genre?
There is no such thing as "I can't paint". I don't care what they told you at school. Pick up a cheap set of paints and some brushes, get some paper, and PLAY. Don't judge. Play for play's sake, then one day, you might create something you're proud of. But don't think about that now. Learn to love the play. Don't second guess yourself, don't worry, just do, even if you're worried you might ruin a bit you like. And most importantly, if you feel crappy after what you've done, remember: everything is learning. You are establishing an intuitive understanding with the medium. This is not something that can be read in a book, and it is worth more than the individual pieces it will ultimately create. You make mistakes today so you can create masterpieces tomorrow.
> Any final words on abstract and surreal art?
Jelly flamingo.
> In conclusion, pick nine works from your Favourites that you particularly enjoy.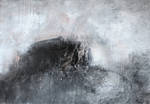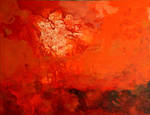 :thumb128760844: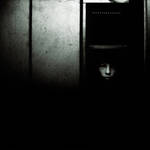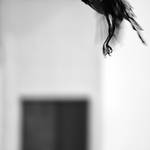 :thumb377763942: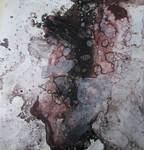 :thumb349156218: