An Interview with-
Azenoire
:bigthumb340849248:
:bigthumb363056117:
:bigthumb355935334:
:bigthumb359594066:
:bigthumb359058489:
:bigthumb355375837:
:bigthumb355027149:
:bigthumb350503338:
:bigthumb346830736:
:bigthumb366721212:
Azenoire's Gallery
> Please introduce yourself, in your own words. What are your interests?
My name is Dimitris and I hail from Hellas. In my childhood memories and throughout my 38 years on this earth I've messed around with the arts: it was a natural instict, a way to express nearly everything. I focused on my greatest love, music: I was a DJ for many years and I compose my own music. Later, I finally found the time to deal with photography and to express my feelings through a camera, an overlay/texture (or many...) in any way I can, and with any means at hand. Other than these two interests, I must say I am a quiet guy: I had my share of the wild life through my time as a DJ but now I enjoy a good book, good music, a good television series or movie, a ride in the car, a walk in the woods or by the sea, and most of all my lady's embrace.
> Where did you begin with artistic endeavours? How did you come across Abstraction or Surrealism?
I've always taken pictures but never with the 'eye' that I have now. I started messing around with effects and stuff like that a couple of years ago, but even as a teenager I was always drawn towards the surreal: I think that even though I do not quite like genre-labelling I know that Dave McKean, the illustrator of Paradise Lost's
Shades Of God album
and
As I Die
EP, and comic artist for DC's
Vertigo
sub-label and Neil Gaiman's books, was the one who first captured my attention.
> How would you explain the concept of Abstraction or Surrealism to someone with no experience with the genre?
As I said above I am not fond of categorising our imagination, especially in the Abstract and Surreal forms but if I had to explain I would say that in Abstraction and Surrealism, art escapes beyond logic boundaries. Just that.
> What inspires you to use Abstraction or Surrealism in your work?
I rarely find any interest in an plain image, so with these forms, my imagination has no limit: I get inspired by the freedom that Abstraction and Surrealism provides. At some points the musical background when I am creating is the greatest inspiration of all.
> What do you want to express with your artwork? What is the idea you're trying to put across?
We are living in dark grey times: through unemployment, the downfall of economies, failing ecosystems, and the increasing difficulty of human relationships. I did not imagine that in my nearly 40's I would be so pessimistic about my life. So with my images I am either trying to express these feelings, or attempting to keep the romantic in me alive.
> What are your 'tools of the trade'? How do you create your art?
I create with any means available. I have used images from cell phone cameras, my humble Cybershot, and now my Nikon D3000. I mainly use Photoshop CS6 for the effects. Overlays and Textures are vital for the atmospheres that I want to create, and at this point I should thank all of these wonderful people that share with us their lovely works and resources!
> Do you think the quality of a piece depends more upon technical perfection, or the message contained therein?
I am an amateur myself and I really admire an image when it is not accomplished due to technical perfection only. I do not like perfection, because I am not used to it.
> Who are your favourite visual artists, and why?
Firstly, Gustav Klimt, the only person that makes me dream and even smile with use of colours! Secondly, Dave McKean. There is no why. I just adore his works.
> Which dA Groups would you recommend to someone looking to get involved with abstract and surreal art?
> What advice would you give to an absolute beginner in the genre?
Advice? Hmm... Be yourself and remember that nothing is really original any more: it is okay to be inspired by other work, but not to be a copy-cat. That is a piece of advice that goes for everyone and everything. Just do not limit your imagination!
> Any final words on abstract and surreal art?
Be Abstract, Be Surreal, Be Unreal.
> In conclusion, pick nine works from your Favourites that you particularly enjoy.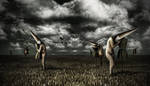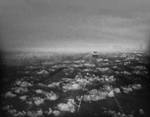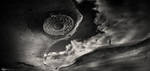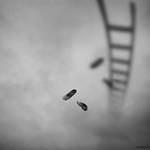 :thumb326764253: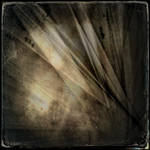 :thumb354622384: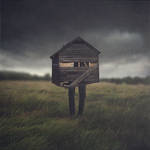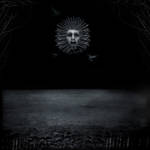 Thank-you
Azenoire
.