I'm open for some commissions, so start thinking about what you would like!
Prices start at:
Head Shots $20
Chest/Shoulders Up $30
Waist Up $40
Hips Up $50
Full Body $75
Example: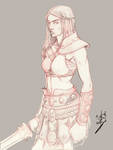 Hips Up
Prices are in USD for SINGLE characters and may vary depending on the complexity of the character's costume or special poses.
I DO NOT ACCEPT points for payment. Payment must be made via PayPal.
I make the final decision in regards to any content or subject that I draw. Basically, I'll be keeping it Rated G/PG/All Ages.
All commissions are for your personal enjoyment only and may not be reposted/re-uploaded/resubmitted by you or anyone else to any platform, and may not be reproduced for any commercial use or display.
I reserve the right to post any art that I produce to my Deviant Art account or other internet accounts or platforms that I manage, and may include the work as part of a compilation of sketches or works that I have produced. By commissioning me, you agree to these terms.
If you have any questions or would like to commission a piece from me, please contact me via the notes and we can work out further details. Thank you for your consideration.