Sunset Shimmer with Phoenix Jacket
Description
Our first painted Sunset Shimmer! We were so excited to make this. We were a little nervous so it took longer than usual. Do you like the Phoenix on her jacket? The 4yo completely painted the background, and did a lot of the reds and yellows, as well as her skirt. We have a "crystal glow" version of it too: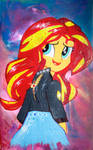 Painted on Cardboard, real life size is about 3 feet high.
Feel free to use it in anyway that you like, just credit us.
See the progression here:
Image size
1200x1854px 1.73 MB