Description
"Whoo hoo" as Smolder would say (at the end of 8.2 School Daze). My daughter (now 5 years old) decided she wanted to do one of the Student Six for her next art. This was painted on a 2 foot tall piece of cardboard, she did most of the hair/scales, and the orange. As always, she had complete control over the background and which version of Smolder we painted.
She also wanted to be Smolder in the fun Pocket Ponies game. Have you guys seen the new updates? Retro Pinkie is absolutely hilarious when you use her special powers. You have to try it out just for that!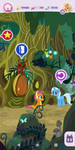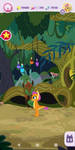 Here is the full size version, which you are welcome to use anyway you like. We are only up to Season 8.6 or so, since we only watch the episodes as a family and it is tricky to get everyone together for it (so no spoilers for later episodes in the comments please).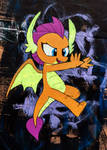 Image details
Image size
1024x1434px 1.8 MB
Date Taken
Aug 15, 2019, 7:02:29 AM