Description
The latest painting from Daddy (me) and the 5 yo (my daughter . . Candy Light)! On cardboard as usual, she painted the white/green background, then we did AJ and Autumn with very little taping (which is nice)! She did most of the mane painting, and most of the coat color painting. I helped with the details and fixed up some of the mistakes.
We came up with a kind of "clay" color for her mane . . a little darker than in the show, but it looks great in real life on the cardboard. A little muddy in the photo though . .
All the best, and we wish all of you a very happy October. What better than to celebrate with everyone's favorite prancing Kirin?
www.youtube.com/watch?v=RAhqxv…
Here is a look at what led up to the final painting. This took over a half-dozen sessions to complete: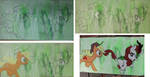 Image details
Image size
1400x745px 1.33 MB