Name: Soobin
Nicknames:
ID: 0296
Owner:
RehARPG
Type: Frilled Abyssal
Sex: Male
Length: Extremely long
Weight: Very thin

Genotype:
cc/ss/
Dd
/ee/nAmt/nF
Phenotype: Amethyst Frosted Soil
Carrier: -
Free Marks: -
Mutations: Cheekless, Tropical Fish
Biome: Lagoon

Status: Adult
Health: Blind

Element: Light
Skills: xx
Careers: xx
Items: xx
Companions: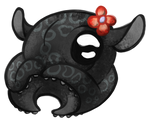 - Eliminate failure chance when Exploring.

- Increases Luck by +2
Stats:
Health: 41
Defense: 9
Stamina: 11
Strength: 9
Agility: 13
Wisdom: 11
Charisma: 13
Luck: 13 (2)
Personality:
This lad might be Blind, but it won't mind to kick your ass if you decide to fuck with him. He isn't effected by any of the visual Elements, such as Light, the illusions from the Mindbender element are also useless on him since he was born blind and is therefore not able to visualize any of the things a Mindbender puts into his head, even if he wanted to.
Its not a smart move to mess with him and spook him just because he can't see that you are approaching. He will flashbang you that you, yourself, will turn blind for at least an hour.

How he sees you ask? Even though he is blind he can still 'sense' things and objects around him. A good example for this would be Toph from the last airbender. She was blind as well but used the ground beneath her feet to sorta ''feel'' and ''see'' her surroundings. Soonbin on the other hand, not having feet, uses his flippers and sensitive frilled fins on his body to detect changes in the water, 'feeling' if something is around. His fins themselves are very sensible, so better not hurt him there or he'll get real nasty real fast.

Even though he is very tough and moody around strangers, he really enjoys pushing his body against other lifeforms to feel their presence and warmth. He will only do this to folk he really trusts or consider friends. He is also prone to do that with sharks or dolphins and whales.
He actually doesn't enjoy the Abyssal places that much. He rather stays at places like the lagoon where he can hide himself inside of tiny caves while watching the pretty reef fish go about their day.

When he was a young lad he got his hint pelvic fins got tangled in Seegras when he was a young boy. His parents needed to make a hard decision which included biting off his fins so he had a chance of survival.


------------------------------------------ SSS: Unknown
------------------------------------------ SSD: Unknown
Sire: Unknown
------------------------------------------ SDS: Unknown
----------------- SD: Unknown
------------------------------------------ SDD: Unknown
------------------------------------------ DSS: Unknown
----------------- DS: Unknown
------------------------------------------ DSD: Unknown
Dam: Unknown
------------------------------------------ DDS: Unknown
----------------- DD: Unknown
------------------------------------------ DDD: Unknown
Design by:
RehARPG
, blind eye by
Lucja5
Edit kits: x2 Amputation Kit
Reference:
Blue Ribbon Eel
Image details
Image size
2250x1500px 3 MB