Name: Cosmos
Nicknames: Smol friend,
ID: 0402
ARPG: Dragons-of-Aquella
Owner: snini9

Species: Aqrion
Type: Horned Phin Singer
Sex: Male
Length: 6 ft.
Weight: 500 lbs

Genotype: cc/ss/dd/Ee/nPn/nF/nHg/nSpl/nBu/
Phenotype: Slate with Pangare Frost Hourglass Splash and Bubbles
Carrier: Bubbles, Splash
Free Marks: Dapple
Mutations: Dwarfism, Horns
Biome: Sunken Spires (Atlantis)
Status: Hatchling
Health: Healthy

Element: None
Skills: xx
Careers: xx
Items: xx
Companions: xx

Trophies: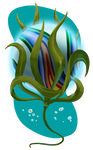 Stats:
Health: 30
Defense: 10
Stamina: 10
Strength: 12
Agility: 12
Wisdom: 10
Charisma: 12
Luck: 8



Personality: Cosmos is a self-conscious yet protective male who takes what others say to heart. He is protective of Callypso, like his other brothers, and would do anything to make sure she stayed safe and healthy. He is self-conscious about his size as he is the smallest in the pod, but he's proud to say that he can get into spaces that others can't even hope to fit into.

Origins: www.paperdemon.com/app/comment…
Lineage:
------------------------------------------ SSS: Unknown
----------------- SS: Unknown
------------------------------------------ SSD: Unknown
Sire: Starter - Monte 0347
------------------------------------------ SDS: Unknown
----------------- SD: Unknown
------------------------------------------ SDD: Unknown
------------------------------------------ DSS: Unknown
----------------- DS: Unknown
------------------------------------------ DSD: Unknown
Dam: Callisto 0365
------------------------------------------ DDS: Unknown
----------------- DD: Unknown
------------------------------------------ DDD: Unknown

Design by: snini9
Edit kits: Edits by snini9
Reference: xx
Image details
Image size
2250x1500px 1.79 MB