Name: Callisto
Nicknames: Calli
ID: 0365
ARPG: Dragons-of-Aquella
Owner: snini9
Species: Aqrion
Type: Horned Phin Singer
Sex: Female
Length: 12 ft
Weight: 1060 lbs
Genotype: cc/ss/dd/Ee/nPn/nF/nSp/nTch/nDl/nRy/nHg/nSpl/nI/nSt/nIr
Phenotype: Slate Pangare frost seal point torched dilute ray hourglass splash ink Soot and iridescence
Carrier: Hourglass, Splash, Ink, Manta
Free Marks: xx
Mutations: Crystaline, Manta, Seer
Biome: Sunken Spires
Status: Colossal (Rank 1)
Health: Healthy
Element: Plasma
Skills:
* Trainer:
- Assists lower ranked Aqrion, Boosts success of all activities by +40
- If used as a guide dragon, Number of Training needed reduced to 1 image.

* Tradesman:
- 50% chance to Double amount of items earned through exploring.

*Experienced Craftsman:
- 50% chance to produce an extra item when crafting.


Careers: xx
Items: xx
Companions: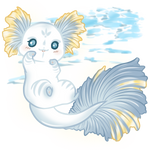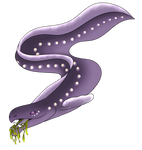 Ghostly lil' Axolotl:
- Eliminate failure chance when Exploring.
- Mutation Potion: Forces a random mutations to occur during breeding.

Oozing Eel:
- 20% Chance to double items found when Exploring.
- 20% Chance to deal double damage per round in arena.


Stats:
Health: 54
Defense: 34
Stamina: 14
Strength: 16
Agility: 14
Wisdom: 14
Charisma: 16
Luck: 12
Personality: Callisto is a stubborn yet gentle female who enjoys the peace of being left alone. She likes to enjoy the quiet of the morning and is often in the company of others who are quiet like her.ÃÂ
Origins: Exotic Semi Custom from the Halloween Event
Lineage:
------------------------------------------ SSS: Unknown
----------------- SS: Unknown
------------------------------------------ SSD: Unknown
Sire: Unknown
------------------------------------------ SDS: Unknown
----------------- SD: Unknown
------------------------------------------ SDD: Unknown
------------------------------------------ DSS: Unknown
----------------- DS: Unknown
------------------------------------------ DSD: Unknown
Dam: Unknown
------------------------------------------ DDS: Unknown
----------------- DD: Starter - Seoul 0346
------------------------------------------ DDD: Unknown
Design by: snini9
Edit kits: xx
Reference: xx
Image details
Image size
2250x1500px 2.27 MB