19 Favourites
2 Comments
192 Views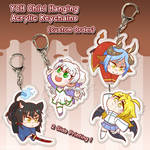 ORDER HERE :
www.etsy.com/listing/770640134…
YCH Chibi Hanging Acrylic Keychain !
Let's make your own acrylic keychain of your original character drawn by AquaZircon
You'll get :
- digital file (2000px .png)
- 2 physical keychains, 2 sides printing + epoxy (6 cm. each acrylic charm)
+10~20 USD for each additional keychain
=====This product is MADE TO ORDER. It need at least 3-4 weeks to be process.=====
Image details
Image size
1024x1024px 876.96 KB

These are absolutely adorable I would love to get one but I wanted to ask if you're okay with doing furries first.